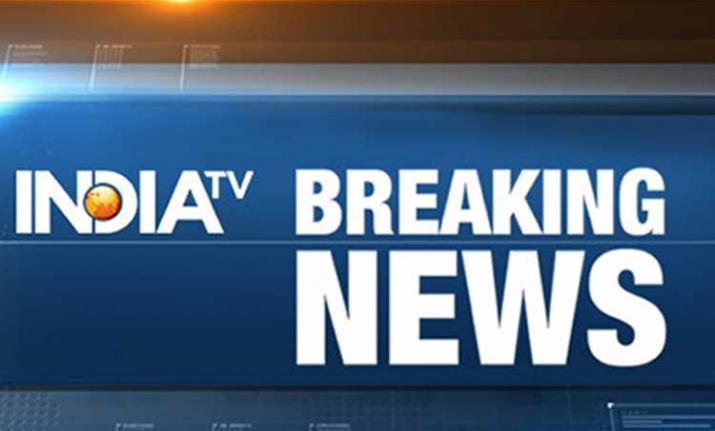 Daily dose of news plays very important role in our daily life. For some people, the morning is incomplete without knowing about what's happening across the world. Some digital-savy people have a habit of consuming news even when they are travelling or in their free time. In today's world, where people rely on news websites for everything that's happening around, IndiaTV News provides you all breaking news, latest news, breaking story videos, Live TV and top shows of IndiaTV, country's leading news channel on a single platform to ensure you don't miss anything important.
Internet, Twitter, Facebook are buzzing with breaking news and news alerts from India and rest of the world. You can find here the LIVE COVERAGE of all breaking news alerts and latest news updates on just one page. IndiaTV Digital covers all top news as and when it happens and ensures its readers don't miss anything important.
Breaking News of September 4: 
05:10 pm: 5 dead, several feared trapped; rescue operations begin
04:11 pm: Market wrap: Sensex skids 154.60 points, closes at 38,157.92; Nifty down by 62.05 points, closes at 11,520.30
03:34 pm: Kerala floods: Government has decided to cancel all official celebrations for one year. Programs including International Film Festival of Kerala and other youth festivals stand cancelled.
03:28 pm: Not only petrol & diesel, price of everything is increasing. But Govt claims there's growth and share market is growing. Prices are soaring and touching the sky. Govt should do something about it: Ahmed Patel, Congress
02:45 pm: Flood alerts issued across the state till Sept 6. In last 24 hours, total 12 deaths reported in UP, over 300 houses damaged. In 100% cases, relief compensation has been provided to the affected people: Sanjay Kumar, Relief Commissioner (reports ANI)
02:31 pm: Terror conspiracy case accused Sharad Kalaskar sent to 10-day CBI custody in Mumbai, for investigation in Narendra Dabholkar murder case
02:10 pm: Under the Bhamashah Yojana, mobile phones will be distributed to women by the Rajasthan Government, free Wifi facilities will also be provided to 5,000 gram panchayats
02:04 pm: Rajasthan Government to distribute mobile phones to women under the Bhamashah Yojana. The state government will also provide free Wifi facilities to 5,000 gram panchayats
01:29 pm: LIC board decides timeline for acquisition of 51 per cent stake in IDBI Bank, says Economic Affairs Secretary SC Garg
12:56 pm: Four dead after their car falls into a river in Madhya Pradesh's Bhind 
12:35 pm: Air India gets Rs 2100 Cr government guaranteed borrowing, says RN Chaubey, Secretary, Ministry of Civil Aviation
12:32 pm: Defence Minister Nirmala Sitharaman to host dinner for United States Secretary of Defense James N Mattis (reports ANI quoting sources)
12:31 pm: Supreme Court refuses to entertain the petition filed by Lt Col Srikant Prasad Purohit seeking SIT probe in the Malegaon blast case. The Apex Court asks him to approach the trial court
12:29 pm: Bombay High Court refuses to stay framing of charges by lower court against Lt Col Purohit and others in Malegaon blast case. Court also says matter pertaining to validity of sanction for prosecution against Lt Col Purohit under Unlawful Activities (Prevention) Act is to be decided by trial court
12:27 pm: US Defence Secretary James Mattis and Secretary of State Pompeo to arrive in India tomorrow. They will hold meetings with Defence Minister Nirmala Sitharaman and EAM Sushma Swaraj on September 6. This will be followed by 2+2 combined meet: Sources
12:16 pm: There's no scam. It's being done due to political malice. There was no wrong doing during our regime. Had this been the case, we wouldn't have been spared so far. It's the result of govt's frustration: Congress' BS Hooda on FIR against him and Robert Vadra alleged Gurugram land grab case
11:49 am: Fire breaks out in Somwari Bazar area of Malad West in Mumbai, 8 fire tenders rushed to the spot
11:41 am: 
#NewsAlert | Rain lashes parts of Delhi pic.twitter.com/xiYIqkcuDC

— India TV (@indiatvnews) September 4, 2018
11:37 am: Supreme Court declines urgent hearing on plea against NGT order allowing Vedanta group access to administrative unit of its Tuticorin plant
11:35 am: CJI Dipak Misra recommends Justice Ranjan Gogoi as his successor
11:33 am: Supreme Court seeks a detailed reply from the Election Commission of India (ECI) after hearing a petition filed by a journalist, challenging the involvement and checking of EVMs by private persons during the polls
11:24 am: Aneeq Shafeeq Sayeed and Ismail Chaudhary convicted in 2007 Hyderabad twin blasts case. Two accused in the case have been acquitted
10:57 am: Man in Delhi's Mukundpur beaten to death on suspicion of committing theft, police investigation underway
10:49 am: Terrorists hurl grenade at CRPF jawans in Jammu and Kashmir's Sopore, 4 jawans injured
10:30 am: Fire engulfs primary school in Dagenham area of East London, 12 fire engines, 80 firefighters at the spot 
10:05 am: We have received advice that we should advise our soldiers to stay away from social media. Can you deny a soldier from the possession of a smart-phone. If you can't prevent usage of smartphone, best to allow it,but important to have means of imposing discipline: COAS General Rawat
10:02 am: In modern day warfare, info warfare is important and we've started talking about Artificial Intelligence (AI). If we have to leverage AI to our advantage we must engage through social media as a lot of what we wish to gain as part of AI will come via social media: Army Chief
09:51 am: Indian Air Force MiG 27 crashes near Rajasthan's Jodhpur, pilot safe
09:47 am: Passengers made to deboard Delhi Metro at Okhla station at 8.20 am todaydue to a technical snag. Metro services, which were affected on Magenta Line, have now resumed
09:23 am: National Highway 5 blocked near Himachal Pradesh's Bhattakufer due to a landslide that occurred early this morning. Vehicular traffic diverted via Sanjauli and Lalkar bazaar route
09:21 am: Sensex up 13.90 points, currently at 38,326.42; Nifty at 11577.85. Rupee hits fresh all-time low of 71.27 against US dollar
08:59 am: FIR lodged against one person over charges of rape in Maharashtra's Nalasopara. Victim has accused him of raping her repeatedly between June 17 and August 30, threatening to kill her family, filming the act and uploading it on the Internet
08:43 am: Afghan Taliban announce death of Haqqani network leader Jalaluddin Haqqani
07:31 am: Petrol in Delhi priced at Rs 79.31/litre, diesel at Rs 71.34/litre
06:17 am: Trump warns Syria not to 'recklessly attack' Idlib province
06:12 am: China's Xi offers another $60 billion to Africa, but says no to 'vanity' projects