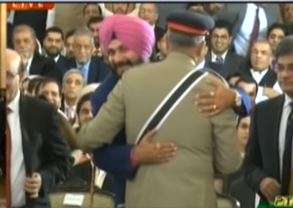 Punjab minister and former cricketer Navjot Singh Sidhu attending the oath-taking ceremony of Pakistan PM Imran Khan, has done more harm than good to him. Sidhu courted controversy after he hugged Pakistan Army Chief General Qamar Javed Bajwa and later sat next to President of Pakistan occupied Kashmir (PoK) Masood Khan during the swearing-in.
Imran Khan was sworn-in as Pakistan's 22nd prime minister today. The cricketer-turned-politician was administered the oath by President Mamnoon Hussain at a simple function attended by his partymen and few close friends.
At the event, Sidhu was seated next to Masood Khan instead of being positioned with other foreign dignitaries at the Aiwan-e-Sadr Hall of President's House.
The Congress leader was also seen hugging Pakistan Army Chief General Qamar Javed Bajwa at the President House prior to oath taking ceremony. They were also spotted talking to each other, and gleeing. 
WATCH VIDEO: Sidhu hugs Pakistan Army chief, sits next to PoK head
Twitter fumes as Sidhu hugs Pak Army Chief, sits next to PoK head:
Another half hug. A PDA @sherryontopp cud hav done without. pic.twitter.com/V5WAT2JXiH

— Abhishek Kapoor (@itootweet) August 18, 2018
Meanwhile oath-taking ceremony in Pakistan,

A comedy show.
And they have invited Navjot Singh Sidhu ji as a Judge.

And sidhu is sitting on chair with PoK acting President to listen So called Oath.. #ImranKhan #SaturdayMorning #SaturdayMotivation #Saturday

— Rohit Dhillor (@askrohiit) August 18, 2018
#NavjotSinghSidhu out of control ho gaye hai.

— AVANTIKA CHANDRA (@Avantika_23) August 18, 2018
What comes first nation or friendship ? Navjot Singh sidhu let the nation down !
He was hugging Pakistan Army chief Lt. Gen. Bajwa in #ImranKhan 's swearing in ceremony when even 2day there is a terrorist attack in sopor.
#shameshamesidhu#thokosidhu#gaddharsidhu#bycottsidhu

— deeps (@bhoolbhulaiya_) August 18, 2018
Symbolic seating arrangement in Aiwan-e-Sadar during oath taking of Prime Minister Imran Khan. Navjot Singh Sidhu seated along with President of Azad Kashmir. This can't be a coincidence.

— Abdullah Nizamani (@lawyerwrites) August 18, 2018
Navjot singh sidhu went to pakistan for imran khan swearing and in the meanwhile hug the killer of our soldier pak army chief. @sherryontopp has gone so low that he doesn't care about the martrys. Shame on this man #NavjotSinghSidhu pic.twitter.com/SO0onc725n

— KAUSHIK PRASAD🇮🇳 (@kaushik_2212) August 18, 2018
Sidhu shaking hand wd Pak army general Baweja at Imran Khan's oath taking ceremony
Army general is the person who is responsible for 100s of innocent killings 😡😡😡#AkhandQutiyapa #ImranKhanPrimeMinister pic.twitter.com/z1u6o9rUtK

— பூலித்தேவன் (@Manikandaraman7) August 18, 2018
Now this photograph is just sufficient to prove him as a traitor. Sidhu was feeling proud to watch the oath ceremony of Imran his friend who had stabbed in his back to prove him a Pakistan's mole in India. https://t.co/z3CbR3VNUc

— Totlani Krishan (@kktotlani) August 18, 2018
Before entering the President House, Sidhu said: I have come here not as a politician but as a friend. I have come here to take part in the happiness of my friend (Imran)." 
Sidhu, Minister of Tourism, Cultural Affairs, and Museums in the Punjab government, said he has brought 'a message of love' to Pakistan as a goodwill ambassador of India.
Recalling the words of former Prime Minister Atal Bihari Vajpayee, Sidhu said he also talked about peace between India and Pakistan.
"If there is a fire at a neighbour's house we get the heat of it," Sidhu said quoting late Vajpayee.
Imran Khan had invited his cricketer friends Sunil Gavaskar and Kapil Dev too for his swearing-in ceremony but they reportedly declined the invitation citing prior personal engagements.