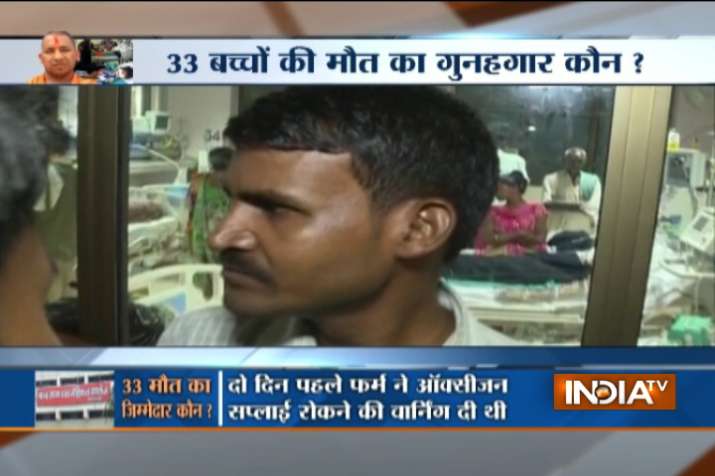 Thirty-three children, many of them new-borns, have died in the last 48 hours at the BRD hospital in Uttar Pradesh's Gorakhpur district due to alleged disruption of Oxygen supply.  
In the last five days, a total of sixty children have lost their lives due to various reasons in the same hospital, according to some media reports. 
Deputy Chief Minister of Uttar Pradesh Keshav Prasad Maurya has promised strict action against those who are responsible for the death of these children.
"Probe is going on in this matter and action will be taken against the culprits," Keshav Prasad Maurya said.
It has been alleged that 33 children have  died in last 48 hours because of lack of supply of Oxygen to the hospital. It is being said that the deaths took place as  the agency responsible for the supply of oxygen stopped the supply through pipeline due to lack of payment of bills amounting to Rs 69 lakh.
However, the government has refuted these allegations. 
The hospital has a special ward for patients of encephalitis. The children who died were admitted in three wards at the hospital. The incident comes barely two days after the visit of Uttar Pradesh Chief Minister Yogi Adityanath to the hospital to review its functioning. Gorakhpur, where the hospital is located, is the Lok Sabha constituency of the Chief Minister.
It has been alleged that repeated reminders were sent to the authorities at the government hospital and medical college in writing regarding shortage of Oxygen supply. They said the technician at the hospital had informed authorities of the shortage in oxygen levels, but wasn't paid heed to.
Meanwhile, Uttar Pradesh Health Minister Siddhartha Nath Singh and Medical Education Minister Ashutosh Tandon left for Gorakhpur  today to review the situation.
The visit, officials informed, was to take stock of the situation at the ground level and also to prepare a detailed report.
The two Ministers, before leaving for the parliamentary constituency and hometown of Chief Minister Yogi Adityanath, apprised him of the situation.