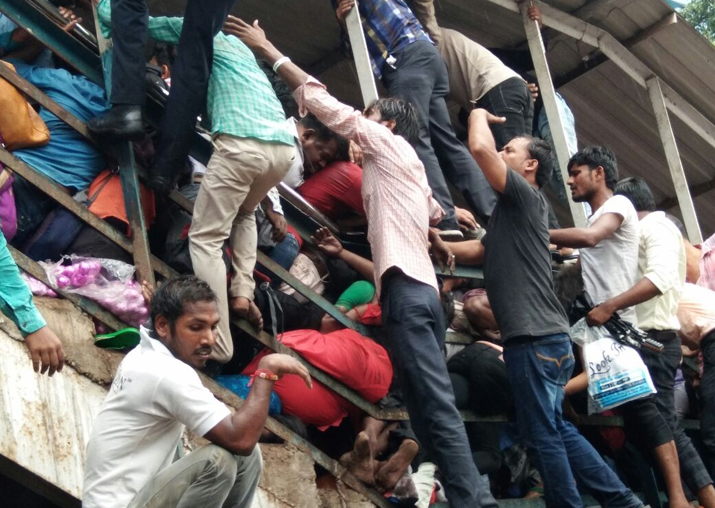 India's financial capital woke up to a rude shock today, with a stampede at the Elphinstone station killing at least 22 people and injured 36 others. Videos of the incident reveal the abysmal situation that the people were subjected to. While there is still no official word on what caused the stampede, eyewitness accounts suggest that a rumour of the over bridge collapsing led to panic among people on the packed staircase.
The stampede occured at around 10.30 am on the over bridge connecting Parel and Elphinstone Road Stations in Mumbai during rush hour. Parel is located on the Central Railways and is a connecting point to switch to the western line using the foot over-bridge to Elphinstone Road.
This is the only bridge that connects the Central Railway platform to the Western Line and is usually extremely crowded during rush hour given that Lower Parel has a number of office complexes.
Mumbai Elphinstone Station Stampede LIVE: At least 27 dead, over 30 injured; PM Modi, Prez offer condolences | VIDEOS INSIDE
As per eyewitness accounts, heavy rains hit the area during rush hour. Due to the heavy rains, many people who were to exit the narrow staircase stayed within the shed covering it leading to even more rush.
It was during this rush that one individual is said to have slipped, leading to panic that the heavily loaded bridge was collapsing, leading to the stampede.
Notably, this is the only route for the entry and exit of passengers connecting the Central and Western Line, which is crowded even otherwise.
The locals said they have been requesting the railways and other authorities to widen the staircase to allow passengers easy entry and exit. However, the requests were allegedly not paid heed to.
Minister of State for Railways Manoj Sinha told India TV that an inquiry has been ordered into the incident. Notably, the incident coincides with Railways minister Piyush Goyal's visit to Mumbai today.   
He has cancelled his scheduled event to inaugurate 100 more local trains for Mumbai after the accident.