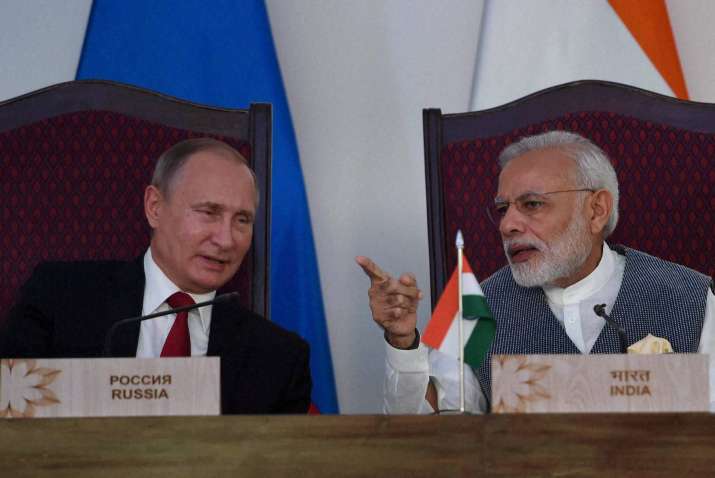 India and Russia on Saturday announced defence deals worth about Rs 43,000 crores which includes purchase of state-of-art Russian air defence systems, collaboration in making four stealth frigates and setting up facility for joint production of Kamov helicopters. 
The defence deals were among the 16 agreements, across diverse sectors, signed between the two countries following delegation-level talks co-chaired by Prime Minister Narendra Modi and Russian President Vladimir Putin here.
The talks covered a wide range of areas including defence.
Amid India's growing defence ties with the US and the Europe, Modi asserted that Russia will remain India's major defence and strategic partner. 
The most critical deal signed today was the Inter Governmental Agreement for the purchase of S-400 long-range air defence missile system which has the capability to destroy incoming hostile aircraft, including stealth, besides missiles and drones at ranges of up to 400 km. 
India is looking at buying at least 5 such systems, which will give the country a quantum jump in its capability against incoming missiles, including ballistic, besides drone or aircraft from both Pakistan and China. 
India plans to deploy three such systems along the border with Pakistan and two along the border with China. 
Sergei Chemezov, CEO of Rostech State Corporation, Russia umbrella organisation encompassing over 700 high-tech companies including all military firms, said that the contract negotiations for the air defence systems will start now and it is hoped that it will be formalised by mid next year. 
Speaking to a select group of journalists, Chemezov said that if all goes well the system will start getting delivered to India in 2020. 
"S-400 is a state of art system and most modern and advanced air system which is vital for a country that wants to secure itself," he said. 
Sources said that each system, having eight launchers, a control centre, radar and 16 missiles as reloads, would cost over USD one billion each. 
It is capable of firing three types of missiles, creating a layered defence, and simultaneously engaging 36 targets. It can hit targets at a speed of 17,000 km an hour. This is faster than any aircraft in the world. 
India will be the second customer of the prized missile system after China which had struck a USD 3 billion contract last year.
Another important deal is for four Admiral Grigorovich- class (Project 11356) guided-missile stealth frigates which is in furtherance to the six Talwar-class frigates that Russia built for the Indian Navy between 2003 and 2013. 
Under this deal, valued at about half a billion American dollar, two vessels will come from Russian and while the other two will be built in India with Russian collaboration. 
India and Russia also signed a USD one billion worth agreement for creation of the joint venture to jointly produce Kamov 226T helicopters that will replace the country's aging Cheetah and Chetak choppers. 
While 40 of these choppers will be brought to India off the shelf, another 20 will be brought down as knocked down versions. Rest of the helicopters will be made in India. 
The joint venture will become a pilot project for the Russian-Indian part of the Make in India programme. 
"The joint venture for local production of Ka-226T is a profoundly new and substantial step in the development of cooperation between India and Russia. The fleet of Russian-made helicopters in India is over 400 units. 
"But this is the first of such large-scale complex agreements for delivery and production of new helicopters in the amount of 200 units, which is fully in line with the Make in India initiative," Chemezov said. 
He added that in addition, over the next five years there will be facilities set up for maintenance and servicing of the produced helicopters. 
"Therefore the agreement presents not just production but a full-lifecycle contract," he said. 
The combined share of the Russian participants in the joint venture will amount to 49.5 per cent, the share of the Indian side - 50.5 per cent. 
The joint venture is set to create also facilities for the overhaul within 7 years after deliveries of the first batch of helicopters. 
The Kamov helicopters are capable of operating at heights of 20,000 feet and once inducted will take over the role of maintaining the forward posts on the Siachen glacier. 
The three deals are worth USD 6.5 billion or Rs 43,000 crore. 
India, Russia to enhance space cooperation 
India and Russia today signed an MoU for setting up and utilising ground stations in each other's territories to enhance the usefulness of their respective navigation satellite constellations of NavIC and GLONASS. 
The two sides agreed to enhance their engagement in the field of space including cooperating within the Scientific and Technical Subcommittee of the UN Committee on Space. 
Prime Minister Narendra Modi said the two countries have also agreed to set up a Science and Technology Commission. 
It was also decided by Modi and President Vladimir Putin that the space agencies of India and Russia will "engage more actively" on space technology applications, launch vehicle, satellite navigation, space science and planetary exploration.
 
"The two sides agreed to have a consolidated approach, within the Scientific and Technical Subcommittee of the UN Committee on Space, to the preparation of the set of guidelines for the long-term sustainability of outer space activities and regulatory provisions on safety of space operations, as the most important component of the said document," the joint statement said. 
India, Russia give go ahead for two more units at Kudankulam 
Carrying forward their cooperation in civil nuclear energy, India and Russia today gave the go ahead for construction of two more nuclear reactors in Kudankulam project even as Moscow strongly backed 
New Delhi's bid for NSG membership. 
However, the two countries could not finalise a general framework agreement and the credit protocol for Kudankulam Units 5 and 6 which they decided to do so by the end of this year. 
Prime Minister Narendra Modi and Russian President Vladimir Putin today also dedicated to the nation the second unit of Kudankulam nuclear plant at a function here after the two leaders held extensive bilateral talks. 
The second unit generates 1,000 MW of power and the new units will each have the same capacity. 
A joint statement issued after the talks said Russia strongly supported India's early entry into the Nuclear Suppliers Group (NSG) and welcomed India's accession to the Hague Code of Conduct against Ballistic Missile Proliferation and the Missile Technology Control Regime. 
It also said there has been progress in discussions on the General Framework Agreement and the Credit Protocol for Kudankulam Units 5 and 6 with a view to finalise these documents before the end of 2016. 
Unit two was dedicated and foundation of two more units of the Kudankulum plant was laid which was witnessed by Modi and Putin through video conferening. 
"Russia is convinced that India's participation will strengthen the international export control regimes and in this regard welcomed India's application for membership in the NSG, reiterating its strong support for India's early entry into the NSG," said the statement. 
In his media statement in presence of Putin, Modi said dedication of Kudankulum 2 and laying of foundation of unit 3 and 4 reflected "tangible results" of India-Russia cooperation in the Civil Nuclear Energy sector. 
"And, with proposed construction of another eight reactors, our wide ranging cooperation in nuclear energy is set to bring rich dividends for both of us. It also fits in with our needs of energy security, access to high technology and greater localisation and manufacturing in India," he said. 
On August 10, the first unit of the Kudankulam Nuclear plant was dedicated to the nation jointly by Modi and Putin who had participated at the ceremony from Moscow via video-conferencing. 
The joint statement said both sides affirmed that their successful nuclear energy cooperation is one of the most tangible and substantive aspects of their strategic partnership. 
It said the two sides reaffirm their intention to further expand cooperation under the 'Strategic Vision to Strengthen Cooperation in the Peaceful Uses of Atomic Energy' signed on December 11, 2014. 
"In this context they noted with satisfaction a series of positive developments marked in their civil nuclear cooperation this year, including attainment of full power capacity of Kudankulam Unit 1, integration with electricity grid of Kudankulam Unit 2, commencement of the site work for Kudankulam Units 3 and 4," it said. 
The joint statement said the Indian side stated that it was working towards early allocation of the second site for the construction of the Russian-designed nuclear power plant. 
(With PTI inputs)