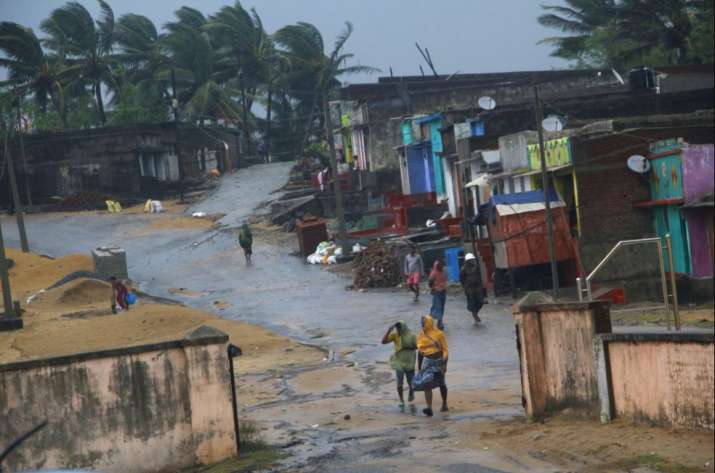 Cyclone Titli has killed at least eight people in Andhra Pradesh's Srikakulam and Vijayanagaram districts and one in Odisha even as the state government undertook massive evacuations to ensure least casualties. The very severe cyclone Titli made its landfall near Palasa in Srikakulam district of Andhra Pradesh, southwest of Gopalpur town in Odisha, between 4.30 and 5 am.
"Immediately after landfall, it was 140-150 kmph. Gradually, it was weakening. Now it will come down to 50-60 kmph. It'll prevail till evening today and may be for sometime after night," Srinivas, Duty Officer, Visakhapatnam Cyclone Warning Centre told ANI.
Also read | Latest Updates on Cyclone Titli
In Andhra Pradesh, scores of trees and power poles were uprooted as heavy rains lashed Srikakulam district under the influence of the storm, the State Disaster Management Authority said. Rainfall ranging from 2 cm to 26 cm was recorded in several mandals of the district even as road communication network was vastly affected.
Andhra Pradesh: Visuals from Palasa railway station in Srikakulam district as #CycloneTitli hits the region. pic.twitter.com/yLPLvY57O3

— ANI (@ANI) October 11, 2018
The State Road Transport Corporation suspended its bus services as uprooted trees caused roadblocks at several places. Transport Minister K Atchannaidu, who hails from Srikakulam, visited the affected mandals and is monitoring the situation.
Chief Minister N Chandrababu Naidu conducted a tele-conference with district authorities and instructed them to remain on high alert. "Every hour from now on is very crucial.Focus should be on relief measures and restoration of communication network.Care should be taken to prevent spread of communicable diseases," Naidu said.
NDRF and SDRF teams have been deployed in Srikakulam and neighbouring Vizianagaram districts to take up rescue and relief operations.
The SDMA has set up a toll-free telephone no. 18004250101 at its Emergency Operations Centre to assist people in distress, while control rooms have been opened in the three north coastal districts. 
Also read | Cyclone Titli hits Odisha, Andhra Pradesh: Do's and don'ts during storm
#WATCH:Trees uprooted, property damaged in Andhra Pradesh's Srikakulam due to #TitliCyclone.The cyclone made landfall early morning today. pic.twitter.com/09Fjx8QwGI

— ANI (@ANI) October 11, 2018
#WATCH: Latest visuals from Andhra Pradesh's Srikakulam. #TitliCyclone made a landfall in the region early morning today. pic.twitter.com/ckoGJblyti

— ANI (@ANI) October 11, 2018
Meanwhile in Odisha, an eight-year-old boy drowned in a canal in the Hinjili area of Ganjam district, where five people were reported missing after being swept away in the flood waters. Ganjam Collector Kulange Vijay Amruta said the five people, including two women and two children, were swept away by flood water while returning home from a cyclone shelter in Sorada.
The state tried to minimise loss of life by conducting mass evacuations even as Cyclone Titli , uprooted trees and electric poles and damaged hutments in Odisha's Ganjam and Gajapati districts. 
In all, eight districts — Ganjam, Gajapati, Khurda, Puri, Jagatsinghpur, Kendrapara, Bhadrak and Balasore — have been affected by "very severe cyclone Titli", Special Relief Commissioner B P Sethi told PTI.
The cyclone triggered heavy to very heavy rainfall in Ganjam, Gajapati and Puri districts of Odisha, causing minor damage to power and communication.
"There has been no major destruction or report of casualty from any part of the state so far. Some damages like uprooting of trees and electric poles and damage to hutments were reported from Ganjam and Gajapati districts," he said.
Power supply and telephone links got disrupted and road communication snapped due to uprooted trees at many places in Gajapati district, Sethi said.
Efforts are now on to clear roads blocked by uprooted trees and to restore power supply in affected areas, he said.
Chief Minister Naveen Patnaik has instructed officials to expedite restoration efforts once the situation improves. He asked officials to provide relief materials to cyclone-affected people.
"The chief minister gave instruction to send two more teams of NDRF to Gajapati where extensive damage has been caused to roads, hutments, electric and telephone poles," Chief Secretary AP Padhi said.
Watch: 20 pics of terror caused by Cyclone Titli 
Thirteen teams of National Disaster Response Force and Orissa Disaster Rapid Action Force have been deployed in affected areas along with fire brigade personnel.
"The damage is less than what we had feared," the chief secretary said.
Padhi said the state government moved over three lakh people Wednesday to safe places which helped avoid loss of life in the natural calamity. The evacuees are housed in 1,112 shelters where food and sanitation facilities are available.
Altogether, 105 pregnant women in Ganjam district an d 18 in Jagatsinghpur have been shifted to hospitals, Sethi said.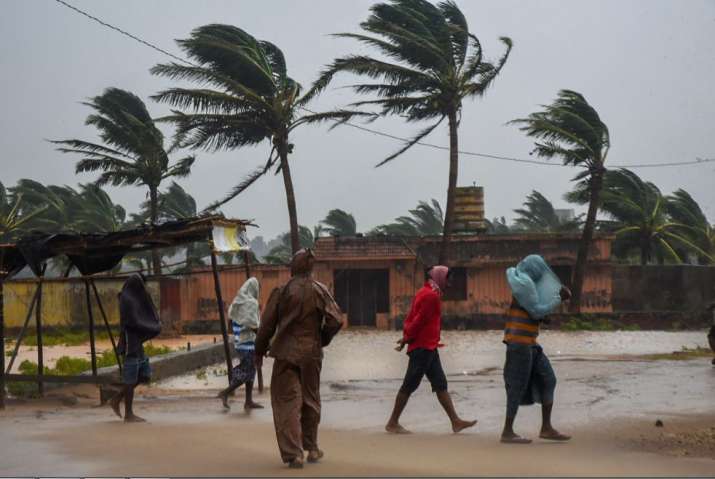 Train services between Khurda Road in Odisha and Vizianagaram in Andhra Pradesh remained suspended since 10 pm Wednesday, East Coast Railway sources said.
"We are optimistic about restoration of train services on the route by (this) evening," said East Coast Railway Chief PRO, JP Mishra.
Damage was caused to railway station buildings at a few places, including Palasa, while signal poles and overhead electric masts were damaged at some places between Palasa and Kottabomali stations, he said adding that steps were being taken to clear the railway tracks.
In Ganjam, reports of damage to hutments and other structures and uprooting of trees were received from some areas, the special relief commissioner said.
According to a report by the India Meteorological Department, Cyclone Titli is now moving northeastwards towards Gangetic West Bengal across Odisha and will weaken gradually.
Director of Meteorological Centre Bhubaneswar H R Biswas said the "very severe cyclonic storm" is being monitored by the coastal Doppler Weather Radars at Visakhapatnam, Gopalpur and Paradip.
North-east districts of Jharkhand have also been affected due to the cyclone. Rain will continue in places around Ranchi till tomorrow, BK Mandal, Director, IMD, Ranchi informed media. 
(With inputs from agencies)
Watch: