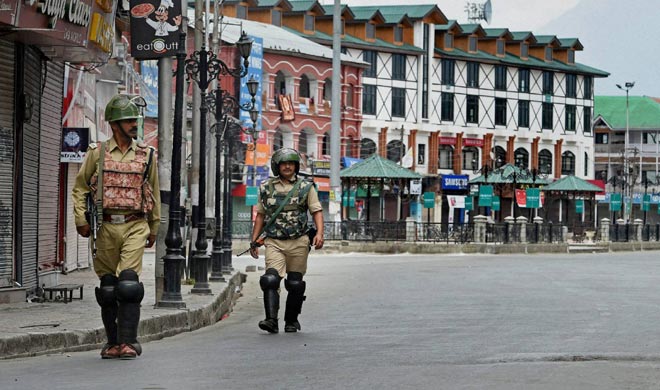 Srinagar: The local authorities in Kashmir today decided to impose curfew in the entire Valley for the 12th consecutive day after separatists extended the protest shutdown for another three days to protest the killing of Hizbul militant Burhan Wani.
A police official said that this was necessitated to maintain law and order as tension gripped the Qazigund area of Anantnag district on the Jammu-Srinagar highway on Monday evening when a mob attacked an army patrol party. Two civilians were killed and four injured in the firing at protesters by the army at Khanabal on the same day.
At least 45 people, including 43 civilian protesters and two policemen, have been killed in the spiralling violence that began in the Valley after Wani's death on on July 7.
Authorities have snapped all mobile Internet connectivity and also suspended calling facility on mobile phones across the Valley.
Limited mobile phone connectivity is, however, available to subscribers on post paid mobile phones provided by Bharat Sanchar Nigam Limited (BSNL).
No vernacular or English language newspaper has been published in the Valley for the last three days.
Amitabh Mattoo, advisor to the state Chief Minister Mehbooba Mufti, told media that the decision to ban publication of newspapers was not taken at the instance of the Chief Minister.
Mattoo said the decision was taken at "the local level and heads would soon roll for taking such a harsh decision".
In a related development, the state government on Monday shifted Senior Superintendent of police (SSP) Badgam, Fayaz Ahmad as sources said he had been transferred for stopping printing of some local newspapers whose establishments are situated in Badgam district.
Mufti has convened an all party meeting in summer capital Srinagar on July 21 to discuss the prevailing law and order situation in the Valley.
Opposition National Conference, Congress, Communist Party of India-Marxist and others have been invited to the meeting.
Addressing a meeting of senior bureaucrats in summer capital Srinagar on Monday, Mehbooba Mufti stressed on the importance of opening educational institutions as soon as possible to protect the future of students.
Schools, colleges and universities have been closed by the authorities till July 25 because of the prevailing law and order situation in the Valley.
Meanwhile, the separatists including Syed Ali Geelani, Mirwaiz Umer Farooq and Yasin Malik have announced extension of the protest shutdown till Friday.
Security has been further tightened in the Valley as Pakistan government has announced to observe a "Black Day" on Tuesday to express solidarity with the people of Kashmir.
Meanwhile, authorities today did not allow any pilgrim to move from winter capital Jammu towards the Valley although 6,679 Yatris had 'Darshan' inside the Cave Shrine on Monday.
"Around 1,700 Yatris were stationed at Bhagwati Nagar Yatri Niwas on Tuesday. The decision to allow the pilgrims to proceed to the Valley will be taken after reviewing the situation later in the day," a senior police officer said.
With IANS Inputs