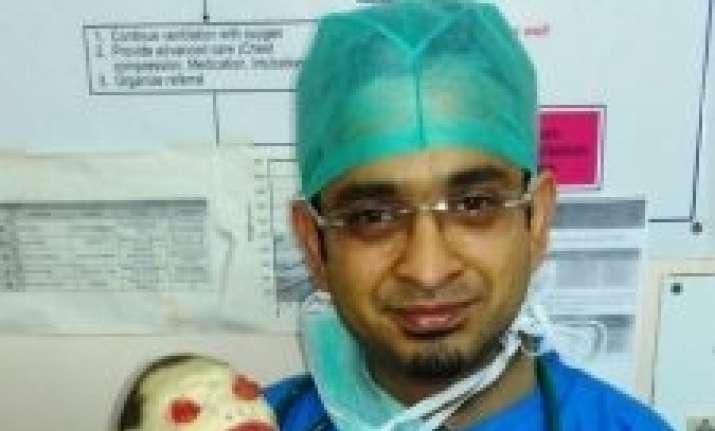 Nagpur: India's first case of Harlequin Ichthyosis baby was reported in Nagpur on Saturday. A Harlequin baby  was born to a young couple in Lata Mangeshkar Hospital.
Suffering from this rare genetic disorder known as  Harlequin Ichthyosis in medical term, the baby girl was born with hard thick skin that covered her entire body with cracks in between. 
The pre-term baby has two holes for a nose, an inverted eye lid, no ears and a fish-like mouth. 
According to the doctors, it's the first 'Harlequin Baby' in the country. The infant is born blind and the chances of her survival are uncertain," said paediatrician Dr Yash A. Banait, who was involved in the rare delivery along with obstetrician-gynaecologist Dr Prachi Dixit.
The baby is currently in the NICU and being attended by a team of medicos who were conducting a series of tests and investigations on the baby.
The child presents a sad picture with large parts of her body without skin and internal organs visible. Her palms, fingers and toes have barely developed.
There are two reddish swabs in place of her eyes and her nose is just two holes from where she breathes and ears are practically missing on her face.
Dr Yash Banait said such children have severely cracked skin which makes it difficult to maintain body temperature and they become prone to infections.
Renowned paediatrician Dr Avinash Banait said there was a similar case in Bastar, Chhattisgarh in 2014, but it would not be medically proved.
Besides this, there have been only around a dozen-odd such recorded cases in medical history since 1750.
The first such child was born in April 1750 in South Carolina, US, and there are reportedly around a dozen such cases recorded in that country.
One such child Nusrit Shaheen was born in 1984 to a Pakistani woman and four of her children had the same disorder and succumbed at an early age.
Another such male child was born in 2013 to a woman in South Africa and was given a slim survival chance, but lived more.
(With inputs from Agency)