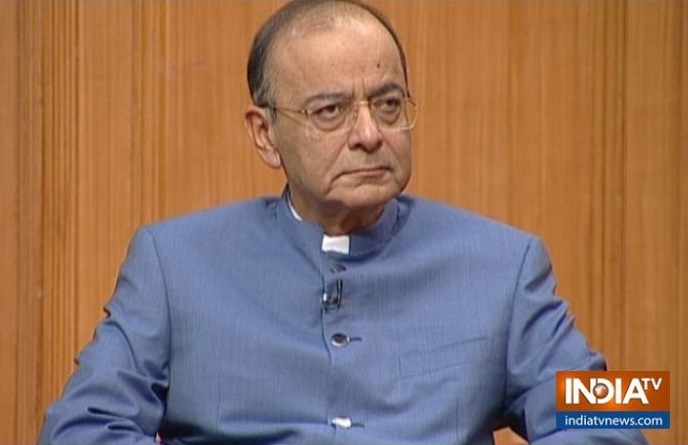 Pakistan attains its strength from those who reside in India but give statements that support the Imran Khan-led country, Union Minister Arun Jaitley said on Saturday. Talking to India TV Chairman and Editor-In-Chief Rajat Sharma, Jaitley said, "It is unfortunate that Pakistan is backed by those who give statements against our operations, without understanding them."
The Union minister's statement came in response to a question underlining Pakistan's claims, which said air strikes by the Indian Air Force did not cause any losses to them and that the bombs were dropped in an empty field.
Further commenting on senior Congress leader Kapil Sibal's statement questioning the authenticity of surgical strikes, Jaitley said they will gain TRPs on Pakistani channels. 
"I think Pakistani channels will give them TRPs and in India, they will bear the brunt of people's anger," the Union minister said. 
Responding to opposition questioning the IAF airstrikes, Jaitley said it was unfortunate for the country to have such insensible people in public life.
He said the biggest operation was conducted by the US when they killed Osama bin Laden in Abbottabad. They later gave pictures of his presence before the incident. Jaitley said no operational details of the Osama operation are known to the world yet. 
"Should our Air Force land there in Pakistan and count the number of deaths?," he asked. 
Jaitley also spoke on Pakistan Prime Minister Imran Khan's video message to India post the February 14 Pulwama terror attack and said, "If Imran Khan says he is against terrorism, then he should have welcomed our action of finishing off those who they couldn't."
Aap Ki Adalat will be aired Saturday at 10 pm on India TV, where Rajat Sharma will be seen grilling Union Minister Arun Jaitley over Indian Air Force air strike in Pakistan, Rafale deal, among other key issues. 
The repeat telecast will be aired Sunday morning at 10 am and at night at 10 pm. 
Watch Videos