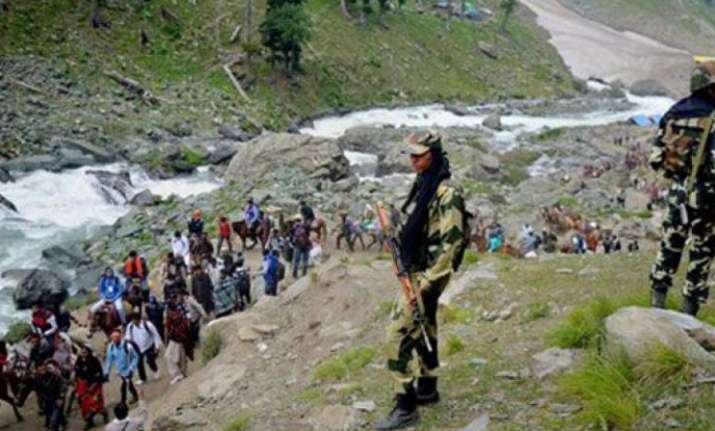 The Jammu and Kashmir Police has sought around 22,500 additional paramilitary personnel for deployment along the entire route of the Amarnath pilgrimage, which begins on June 28. 
In view of last year's terrorist attack on pilgrim bus, the authorities have planned a multi-tier security arrangements. Tracking of pilgrims' movement through satellites, installation of jammers, CCTV cameras and bulletproof bunkers, deployment of dog squads and quick reaction teams will be part of the security drill along pilgrimage routes.
The heightened security arrangements will be put in place with the involvement of the Army, paramilitary forces and the Jammu and Kashmir Police in view of an analysis by security agencies which suggested vulnerability of pilgrims, an official privy to the development told PTI.
The Jammu and Kashmir Police is seeking additional 225 companies of paramilitary forces for deployment along the pilgrimage route. These forces will join the existing forces operating in Jammu and Kashmir, the official said.
A company of paramilitary comprises 100 personnel.
Home Minister Rajnath Singh has reviewed security arrangements for the Amaranth yatra during his two-day visit to Jammu and Kashmir last week.
Singh has been told that multi-tier security will be put in place for the smooth conduct of the pilgrimage which attracts lakhs of pilgrims every year, another official said.
A total of around 40,000 personnel are expected to be deployed during this year's pilgrimage.
Around 35,000 troops were deployed during the Amarnath pilgrimage in 2017.
The Ministry of Home Affairs is also looking into various other aspects of the security set-up during the nearly two-month long pilgrimage to the cave shrine dedicated to Lord Shiva in the Himalayas in Jammu and Kashmir, the official said.
According to the estimates of various security agencies, there are about 200 active terrorists in the Kashmir valley and recent trends show that terrorists are getting more brazen in their attacks.
A total of 2.60 lakh pilgrims offered prayers at the shrine last year.
Amarnath shrine is situated in a narrow gorge at the farther end of Lidder Valley.
(With inputs from PTI)