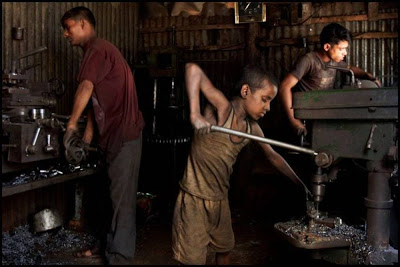 While Centre is introducing myriad plans and schemes to improve the literacy rate throughout the nation, the recently released Census 2011 data reveals some shocking facts about the widespread illiteracy and child labour in India. 
The census data shows that as many as 8.4 crore children don't go to school, whereas about 78 lakh children are forced to earn livelihood even as they attend schools, says a Times of India report. 
While the number of working students is low as compared to the total population of students, the numbers are big enough to show the importance given to education by families and children themselves. They also indicate the increasing cost of education in the country, which should be ideally free for children aged between 5 and 17 years. 
The Census data reveals that among the 78 lakh working students, 57 per cent are boys, while the remaining 43 per cent are girls. 
Moreover, of the working students, some of them are as young as six years old and 68 per cent of them are into marginal work, which lasts for six months or less – predominantly agricultural or artisanal in nature, while the remaining 32 per cent are into main work.  
However, many of them also serve as unskilled helpers in several enterprises. 
On the other hand, 8.4 crore children – nearly 20 per cent of the age group that comes under the Right to Education Act – don't attend school at all. 
Among these 8.4 crore children, boys and girls make up nearly the same proportion.  
However, the perception that children don't go to school because they are forced to work doesn't seem to be true as only 19 per cent of them are working somewhere.