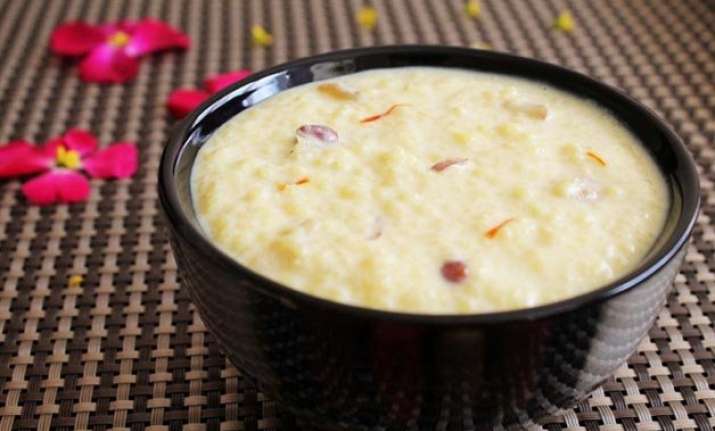 New Delhi: As Navratri is beginning today, the entire country is seen indulged in the color of festivity and zeal.
It is the time of the year when Hindus worship various avatars of Goddess Durga and keep fast for the nine days. Use of onion and garlic in the household is strictly prohibited during the period.  
While most of the people do fasting for religious purpose, there are many who op fasting to indulge healthy food in their diet.
However, Navratri days are also the best time to serve oneself with some of the most deliciously healthy food items. While no way you can resist those tempting and creatively cooked aloo and other stuff namely - kutu ki puri, anardana chatni or sabudana khichadi; you would definitely love treating yourself to a good dessert.
Yes! People can also relish yummy sweet dishes during Navratri despite of their fasts.
Here we bring you an easy-to-make recipe of delicious 'vrat rice kheer' to soothe your sweet tooth.  
Ingredients:
Full cream milk, samvat rice, sugar, cashews, raisins and cardamom
Method:
1. Take 2/3 cups of samvat rice or 'vrat' rice and wash it properly before soaking it for half an hour.
2. Now, take 1 litre of full cream milk in a heavy pan and add the soaked rice into it. Cook it till the milk starts boiling. Make sure to stir the milk rice mixture after every 3-4 minutes so that the rice does not stick to the bottom.
3. Add ½ cups of sugar to the mixture and stir it well till sugar gets dissolved completely.
4. Take some cashews, raisins and small cardamoms to add them into the kheer. Cut the cashews into small pieces, and grind cardamom into powder.
5. Add cashews, raisins and cardamom powder into the kheer once rice gets tender and cook it till rice and milk gets mixed completely and becomes a thick mixture.
Samvat Rice Kheer is ready to be served.