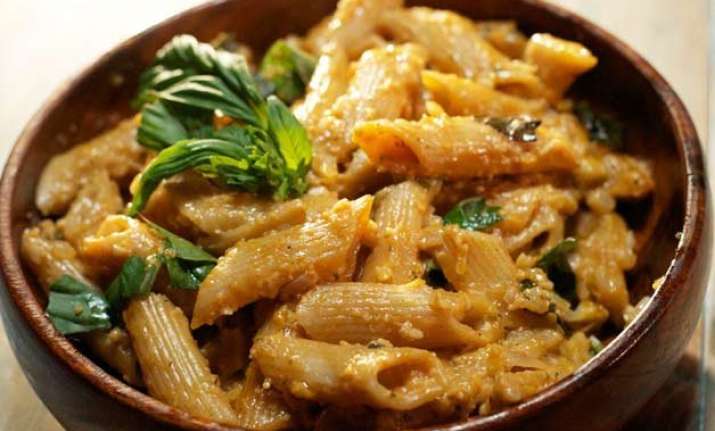 Eating a meal should be both - a healthy and an enjoyable occasion for your child — a fact that many parents may overlook sometime when planning a meal for their growing children. The amount of food that a child needs differs according to height, weight, build, gender, and activity level. Don't force them to eat more food than they want or need.
If your child is in no mood to have rotis then you can cook some other healthy food like Peppy Tomato Oats Penne Pasta dipped in Pink sauce or oats puree.
Read below how to prepare Peppy Tomato Oats Penne Pasta dipped in Pink sauce and get their – WOW reaction instantly.
Ingredients
    200 gm Whole wheat Penne Pasta (cooked)
    1/2 teaspoon Saffola oil
    1/4 onion, diced
    1/2 clove garlic, minced
    4 tbsp tomato puree
    1 basil leaf
    1/8 teaspoon dried oregano
    1/4 teaspoon salt
    1/8 teaspoon ground black pepper
How to Prepare Penne Pasta?
Boil some quantity of water in a vessel.
Add Penne pasta and let it boil for 15 minutes.
Before pouring the water out from the vessel, grab a piece and check whether it's properly steamed (cooked) or not.
Check if there is a thin white line in the center.
How to Prepare Pink sauce?
In a saucepan, sauté some piece of onion and garlic in olive oil over medium heat. Be sure it doesn't burn.
Add tomato puree, basil, oregano, salt and pepper.
Bring it to boil for 5 minutes (until most of the liquid evaporates).
Stir in Oats Puree
Reduce the heat and simmer it for 5 more minutes.
Toss the sauce with Penne, garnish with basil leaves
 Yuhoo… it's ready to be served!