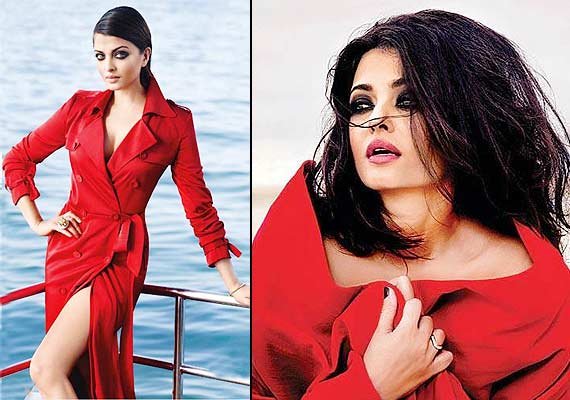 New Delhi: Aishwarya Rai Bachchan is a beauty for whom words like stunning, glamorous, beautiful etc seem tiny and not enough.
A diva who instantly carved recognitions for herself, Aishwarya started ruling myriads of hearts with her gorgeous stints in Bollywood soon after she was crowned as Miss World 1994.
Apart from giving us a few unforgettable Bollywood characters, Aishwarya Rai Bachchan has even crafted herself as one of those rare personalities who stands as motivation and inspiration for myriads wanting to achieve great in life.
A few from the recent ones are those of Noblesse, Kalyan Jewellers and L'Oriel.
Take a look of hot and ravishing Aishwarya Rai Bachchan as she poses and enchants with her startling self! One actress who has taken India overseas with her timeless beauty and ever-so-smart attitude, Aishwarya turns 41 today.
Aishwarya Rai Bachchan posed for ace photograper, Dabboo Ratnani's 15th eidtion celebrity calender.
The light-eyed beauty looks just breath taking with those sensuous expressions on face.
She did a steamy photoshoot for high fashion and lifestyle magazine Noblesse.
Though her on-screen appearances have always added more stars in her alluring persona, Aishwarya has time and again given doses of her timeless beauty with various striking photo shoots over the time.
Aishwarya Rai was born on November 1, 1973 to Krishnaraj - a marine biologist and Brindya in Managlore.
Initially, when Aishwarya didn't step into the glam world, the lady wanted to be an architect.
When Aishwarya won the Miss World pageant, she was asked for a date by the host of the event. But the lady refused the offer. That's like a traditional 'Bharatiya' lady.
Bollywood actress Preity Zinta is the only friend of Aishwarya among others in the industry. But the fact is, the two never co-starred in any flick together.
Once, Aishwarya went to a grocery shopping along with her mother.
She was tapped on her shoulder by none other than, yesteryear actress Rekha. Rekha recognised Ash from her modeling ads.
She complimented the young Aishwarya on her good looks and wished her all the best. It was a coincidence that Aishwarya later did an Umrao Jaan role with her hubby Abhishek Bachchan.
Amongst numerous costumes she dons, the actress loves Indian traditional outfit - sari.
Aishwarya met with an accident in the year 2003, while shooting for the flick 'Khakee'. She had fractured her leg there.
Among her favourite Gods, Ash loves Lord Ganesha.
Out of numerous films in Bollywood, Aishwarya loves 'Deewar' which also had her pa-in-Law in the lead role.
Among numerous stars she has worked with, Rajnikanth is her favourite co-star with whom she claims the best ever experience.
While shooting for Mani Ratnam's Guru, she proposed Abhishek Bachchan for marriage and soon after the film's release, the two got engaged.
The actress has a habit of collecting most of the news articles related to her.
ndian beauties Aishwarya Rai and Freida Pinto feature alongside Hollywood celebrities like Zoe Saldana, Eva Longoria, Blake Lively, Jane Fonda and Julianne Moore in a star-studded ad campaign by beauty brand L'Oréal Paris.