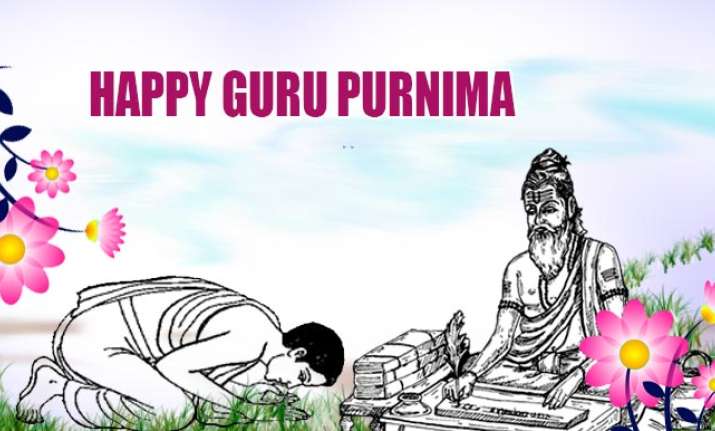 Guru Purnima is celebrated in India and Nepal to honour the contributions made by the teachers to the society. It is celebrated on a full moon day of Ashada (June-July) month. Mostly, Hindu, Jain and Buddhist celebrate this festival. This year, this auspicious day falls on Sunday. NASA Moon's official account tweeted the picture of full moon while referring Guru Purnima a few days ago. The Hindu festival is trending on Twitter since morning, so our Bollywood celebrities tweeted their wishes on the same on their official Twitter accounts. Here's what they said. 
Also Read: Happy Guru Purnima 2017 Date: Images, Messages, Quotes, Facts and Importance of the Guru Purnima in India
Veteran actor Amitabh Bachchan posted a series of tweets while remembering the teachers of his life. He posted a picture which shows a student seeking blessing from his Guru by touching his feet. Among many pictures, there's one picture which has Amitabh Bachchan with his parents. 
In another tweet of the series, he wished his fans on the occasion of Guru Purnima. Attached with it, is a picture of the legendary actor with folded hands and greeting people.
T 2480 - In life there have been many that have left a learning for me, but what I received from my Parents was the best and the highest ! pic.twitter.com/gec4WB89xz

— Amitabh Bachchan (@SrBachchan) July 9, 2017
T 2480 - On the auspicious occasion of Guru Poornima, wishing all love respect and the best wishes .. pic.twitter.com/KGjqzqHxxd

— Amitabh Bachchan (@SrBachchan) July 9, 2017
Actor Suniel Shetty also posted a picture of his father mentioning him as his Guru and mentor. He wrote: "My father. My guru. My inspiration . My world. Will miss you Papa
My father. My guru. My inspiration . My world. Will miss you Papa #GuruPoornima pic.twitter.com/91FNZVodre

— Suniel Shetty (@SunielVShetty) July 9, 2017
Manisha Koirala wrote, "#GuruPoornima."Impressions of #gurupurnima #pilotbaba #ashramlife #haridwar, along with a picture from her on-going vacation.
Guru Brahma, Guru Vishnu, Guru devo Maheshwara,
Guru sakshat, param Brahma, tasmai shri guravay namah

Our... https://t.co/P2Gf4bjHkG

— Manisha Koirala (@mkoirala) July 9, 2017
Ayushmann Khurrana took to Twitter to thank Shoojit Sircar for his contribution in the actor's life. Ayushmann has worked with Sircar in Vicky Donor. In another tweet, he thanked Aanand L. Rai, Ashish Patil, Raghu Ram, Nikhil Chinapa and Gaurav Kapoor for their support and teachings. 
#GuruPurnima greetings to @ShoojitSircar dada, Adi sir and @aanandlrai sir. Thanks for being the guiding light. 🙏🏻

— Ayushmann Khurrana (@ayushmannk) July 9, 2017
Thanks for being a friend, philosopher and a great teacher --@babubasu @patilashish @tweetfromRaghu @nikhilchinapa @gauravkapur #GuruPurnima

— Ayushmann Khurrana (@ayushmannk) July 9, 2017
Guru Purnima also marks Gautam Buddha's first sermon at Sarnath in UP. Many celebrate this day as an occasion to express gratitude to sage Maharshi Veda Vyasa, who edited the Sacred Hindu texts and scriptures. This is why it is also known as Vyasa Purnima. 
Also Read: Guru Purnima 2017: Do you know NASA's official Twitter account tweeted about the Indian festival?
For more Lifestlye news click here