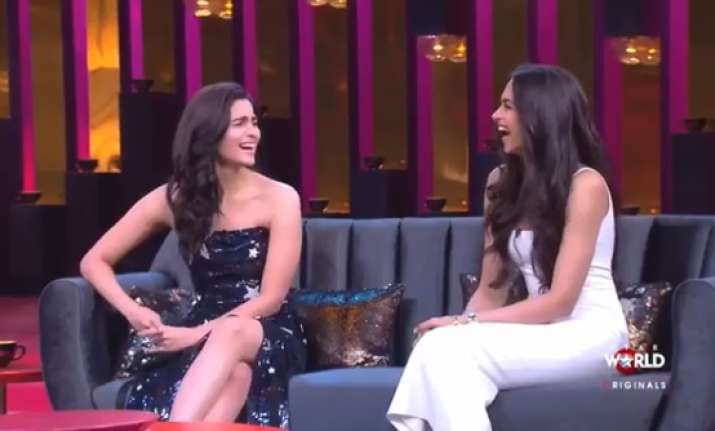 Koffee With Karan season 6 is going to be a superhit and we can already say that seeing the line-up for this season. From Arjun Kapoor to Deepika Padukone, Alia Bhatt to Akshay Kumar, most of the A-listers and celebrated actors of Bollywood are gracing the couch this time and that too in really good combinations. Surely, this season promises lots of drama and fun, just what the show is famous for. On Saturday, host Karan Johar shared a promo of the opening episode of the season. And as we told earlier, Bollywood's dearest divas Deepika Padukone and Alia Bhatt are opening this season.
In the promo, we saw how gorgeous both the actresses are looking. It's difficult to say who's looking better. In the beginning itself, Karan Johar throws the question which we were already thinking about. He asks Alia and Deepika if they feel awkward about having dated and still dating the same man- Ranbir Kapoor.
"You have been in a relationship with Ranbir, Alia is in one right now…" Karan Johar asks only to get interrupted by Deepika. The host then asks them who's going to get married first, to which Alia and Deepika point towards each other. However, the audience already knows the answer. Alia goes on saying that it's the biggest lie ever (hinting towards Deepika's impending wedding this year.)
Ranveer Singh's mother and sister start shopping for wedding with Deepika Padukone? These pictures suggest so
The highlight of the entire promo was when Alia Bhatt nonchalantly burps in the middle of a question. Well, this season of Koffee With Karan is going to up the ante in terms of fun, drama and also some controversies.