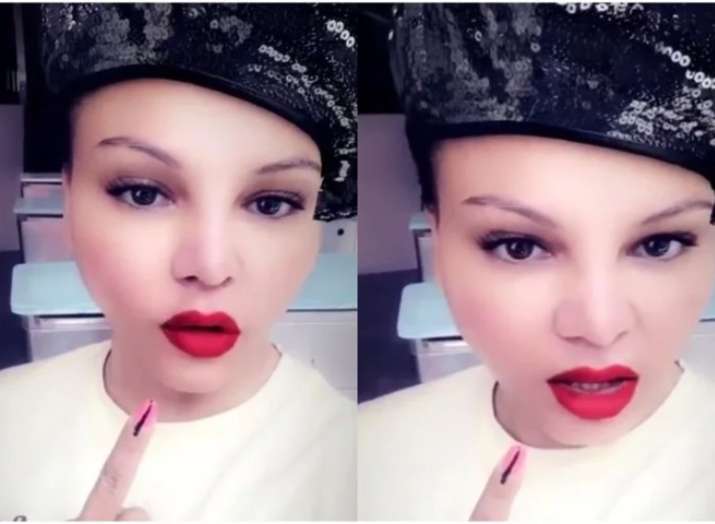 Rakhi Sawant was one of the many Bollywood celebrities who exercised their right to vote in the fourth phase of Lok Sabha Elections 2019 on Monday. From Amitabh Bachchan, Shah Rukh Khan to Priyanka Chopra and Rekha, almost all the Bollywood celebs were in queue to cast their vote and shared picture of their inked finger on social media. Internet sensation Rakhi Sawant also took to her Instagram to share a video and announced that she too has cast her video. However, like any other Rakhi Sawant video, this also had a lot other warning that the diva had to give to the political party she has voted for.
In the video going viral on the internet, Rakhi Sawant is seen warning the political party that she doesn't like corruption, so it is better for them to become be 'corruption-free' and maintain the system. Rakhi goes on to suggest her chosen political party to take the actions required before the rainy season knocks at the door. While Rakhi doesn't reveals the name of the political party she has voted for, she seems to eb very confident that the party will win in the Lok Sabha Elections 2019. Interesting, Rakhi has one more demand to make which is to make 'Lokhandwala market' cheaper. Watch Rakhi Sawant's viral video here-
Rakhi Sawant always manages to steal away the limelight with her viral videos and controversial comments on various issues. She is very active on social media and has an opinion about everything under the sun. A couple of months ago, Rakhi Sawant was ruling the headlines for her alleged marriage with another internet sensation Deepak Kalal.
On the other hand, Rakhi Sawant also earned a lot of attention when she accused Tanushree Dutta of lying after she accused Bollywood actor Nan Patekar of sexual harassment. Things went a bit ugly between the two when they both filed cases on each other. 
Here are more viral videos of Rakhi Sawant-