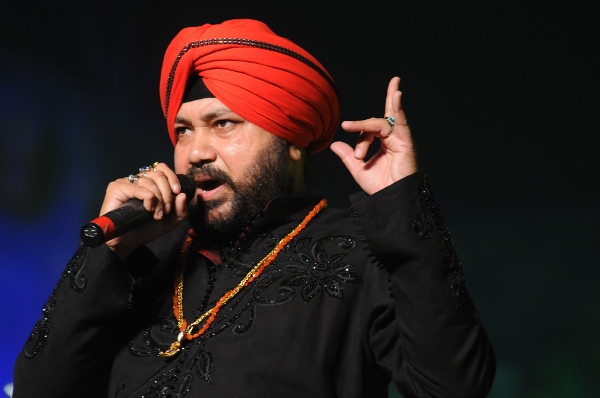 Daler Singh, who goes by the pseudonym Daler Mehndi has been convicted for human trafficking and jailed for two years. On Friday, Patiala court in Punjab convicted the playback singer for human trafficking case. He has been taken into custody immediately after the conviction. The case was filed against Daler Mehndi and his brother Shamsher Mehndi, however the latter died in October last year. Mehndi has been accused of illegally sending people abroad and charging hefty amount in return. He used to guise them as members of his troupe to flee the country.
Daler Mehndi Biography
Daler Mehndi is an Indian singer, songwriter, author, performer and also an environmentalist. He is famous for making Bhangra a rage worldwide. He is also credited for setting up a parallel non-film Indian pop music industry which saw the rise of many playback singers including Sonu Nigam, Shaan and Mohit Chauhan. The Daler Mehndi songs are known for their energy and his distinctive singing style. Usually, during his performances, Daler Mehndi used to don turban and colourful robes to make a statement.
Daler Mehndi Music Career
Daler Mehndi's debut album Bolo Ta Ra Ra sold over 20 million copies, establishing him as a pop star. He also won Channel V's Best Indian Male Pop Artist Award. His second album Dardi Rab Rab also dominated the chartbusters for years. This album shattered the records of his first album as well. Third album Balle Balle won him Channel V Awards in six categories.
His popular track Na Na Na Na Re featured Bollywood's megastar Amitabh Bachchan with him. One of his music album also had now global icon Priyanka Chopra  dancing on his beats.
In 1998 , Daler Mehndi was roped in by Coca Cola to endorse the brand in 30 concerts across the country.
Daler Mehndi's track Tunak Tunak Tun is a popular track not only in India but also worldwide.
Daler Mehndi Personal Life
Daler Mehndi is married to Taranpreet Kaur. With her, he has four children namely, Gurdeep Mehndi, Ajit Kaur Mehndi, Prabhjot Kaur Mehndi and Rabaab Kaur Mehndi. His daughter Ajit is married to Navraj Hans, the son of popular Punjabi singer Hans Raj Hans.
Daler Mehndi 2003 Human Trafficking Case
Daler Mehndi along with his brother Shamsher Singh was accused of illegally sending people abroad disguised as the members of their dance troupe. They used to charge them hefty amount of money to send them across the borders. During 1998 and 1999, Mehndi and his brother took two troupes from which 10 people were taken to the United States. They were dropped off illegally. Daler Mehndi dropped off three girls at San Francisco during a trip to the US.
The Mehndi brothers took another troupe to the US in October 1999, where they dropped off three boys in New Jersey. Patiala Police registered a case against Daler Mehndi and his brother Shamsher after complaints from people levelling charges of fraud were filed. The complainants alleged that the brothers took the passage fee to help them migrate to the US but had failed to do so.
Daler Mehndi's office in Connaught Place, Delhi was also raided. Among the seized documents was the case file of those who paid the passage money to the brothers.
In 2006, Patiala Police filed two discharge petitions stating Daler Mehndi to be innocent. However, the court dismissed the petition and maintained that the singer be prosecuted as there was enough evident against him on the judicial file.