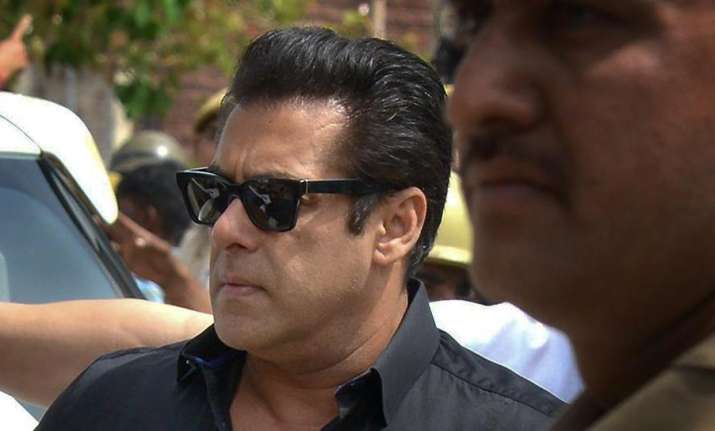 In the course of these days, we've seen the massive fan following that Salman Khan enjoy. Not only the common people, but he found fans among many Bollywood celebrities as well. As soon as the blackbuck poaching case verdict was announced, reaction started pouring from all the quarters, majority of which backed the superstar. Hundreds of fans gathered outside Jodhpur Central Jail, voicing their support to the Race 3 actor. But one of his fans went berserk and crossed all the limits of fandom or say fanaticism.
Dev Karan Singh, an aspirin model from West Bengal, while demanding justice for his favourite star, used a blade to write a message for Salman Khan. He even threatened to kill himself if Salman Khan doesn't get to walk free. The aspiring model also posted the picture on social media.
According to Singh, he was expressing his disappointment in the verdict of Jodhpur sessions court that sentenced the actor for killing the blackbucks. He also raised his voice against the court on acquitting the other four actors including Tabu, Sonali Bendre, Saif Ali Khan and Neelam.
"The verdict is completely biased and made to frame Bhai (brother). I cut my hand to demand justice for bhai. I will continue doing this and will even commit suicide if Bhai is not let go," he told News18.
"There were five actors that went out to shoot the buck. How could they all have been acquitted? All, but bhai? There is definitely something wrong," he added.
Dev Karan Singh was also reminded that attempting suicide is a punishable offence with imprisonment under IPC. He said, "If by laying down my life, I can get justice for bhai, I will surely do it."
Karan was not the only one who was protesting against court's decision over blackbuck poaching case. Hundreds of fans gathered outside the jail to voice their anger. Now when the actor walks free, we hope that Salman Khan's fans are happy.