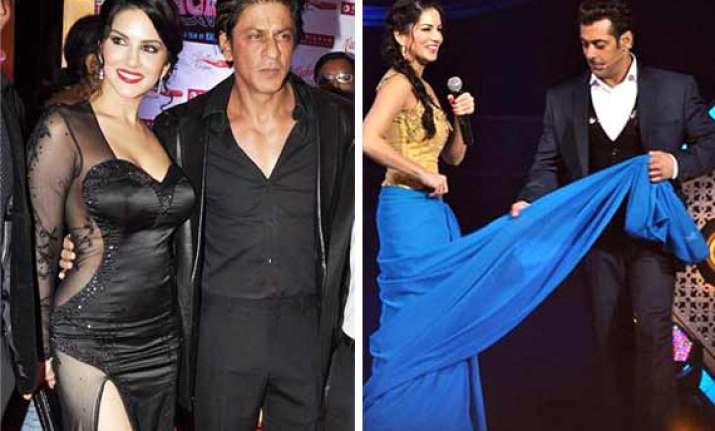 New Delhi: Now that the porn star-turned-actress Sunny Leone is riding high over the success of her latest hit Ragini MMS 2, she wants to take her acting career to yet another level. And looks like she knows the importance of being attached with the big names from the industry because in her wish list, none other than two super 'Khans' of Bollywood, Shah Rukh and Salman Khan lie.
Yes, the actress has big dreams in her eyes to work with the two stars. "Shahrukh Khan because I think his comic timing is brilliant. And Salman Khan," a leading daily quoted her on being quizzed over the actors she would like to work with.
If the two former rivals would hear this, what would be going in their minds? On King Khan's side, it could be the recollection that during Leone's 'Jackpot' special screening last year, he expressed his desire to work with the hot actress saying that he has never been part of casting actors in his films but if there is a film, he will be fortunate enough to work with Sunny Leone. Well, that could be a ray of hope for the 'Jism 2' actress.
While SRK is out of the column of casting his actresses, Salman Khan is known for giving breaks and launching new faces. Zarine Khan, Sonakshi Sinha, Daisy Shah, Sana Khan are some of the better examples and so it wouldn't be a big deal for him to cast his new admirer Leone in his next, provided the 'Dabangg' star knows the lady from her initial 'Bigg Boss' days.
Well, we wish your dream come true Sunny and we can see you romancing the big 'Khans' of the industry soon!