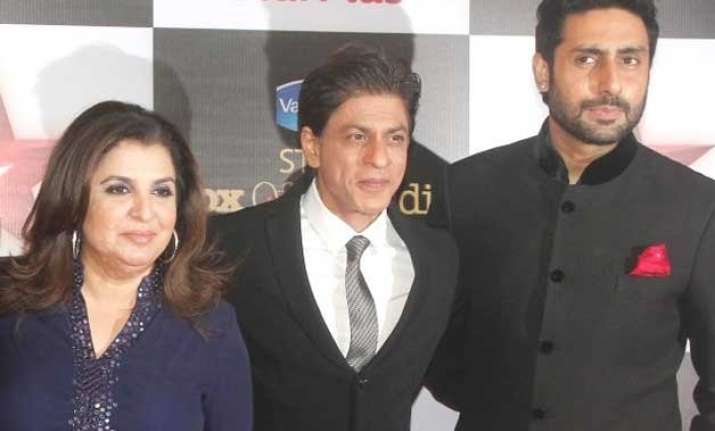 New Delhi: Farah Khan who is all set don an apron for her cookery show 'Farah Ki Daawat' will have her Happy New Year stars Shah Rukh Khan and Abhishek Bachchan as her guests. 
The makers of the show that will soon air on television are in talks with the two stars and considering they are close friend of Farah, the chances are high for their presence. 
'Farah Ki Daawat' apart from being a cookery show is also a chat show and so other celebs from Bollywood will also mark their presence here. "Farah Ki Daawat is not just another regular cookery show. It's an interesting mix of food and gupshup. Hence Farah's friends from the industry will be seen visiting her in the kitchen and will help her cook some savoury dishes. Shah Rukh Khan and Abhishek Bachchan are pretty much on board to shoot one episode with Farah for the show. Talks are on with the others too", a leading daily quoted Farah as saying. 
Farah who recently hosted Bigg Boss Halla Bol is quite excited with her upcoming show as she shared how she developed her habit of cooking saying, "I have been cooking ever since I was 17. Even today, I try and cook at home because my family loves whatever I cook. I love cooking because it is quite calming and therapeutic. And by virtue of being a complete foodie, I also love feeding the people around me. My friends always tell me that I am a fabulous cook and have the ability to gain people's unwavering attention."
The 'Main Ho Na' director also recalled how she impressed her hubby Shirish by presenting her cooked food. "When Shirish and I were still getting to know each other, I decided to cook a special meal for him incorporating most of his favourite dishes including fried prawns. Needless to say, it was a great success; we are married today", Farah told the daily further.
Well, we hope Farah presents some of the mouth-watering dishes at the show too.