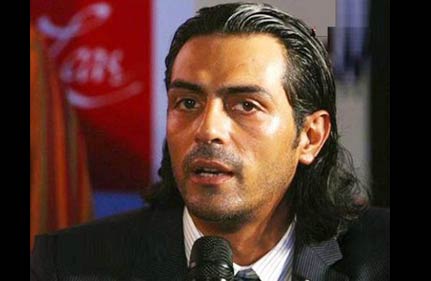 Bollywood actor Arjun Rampal, who has become selective in choosing his films after winning the National Award for 'Rock On!' has agreed to do a cameo in David Dhawan's Rascals only at Sanjay Dutt's request, says a media report.
The report quoting a source said, "Arjun has always been very selective about his choice of films, but he has become more careful after winning the National Award, as he feels that now he has to choose the right kind of films.
"Arjun Rampal was too polite to refuse when Sanjay Dutt asked him to play conmen's boss in his upcoming production.
"He's open to doing all kinds of films from comedy to thrillers to drama. The only reason he's doing this film is because Sanju called him up and asked him if he would do it.
"But Sanju also specified that Arjun didn't have to do it for his sake, but only if he liked the role. Arjun agreed immediately. It's a stylish role and Arjun is developing a certain look for it."
Arjun Rampal is excited about the role nevertheless. 
"It's a fun role in Rascals and Sanju called me up to ask if I could do it. Though it's a cameo, I loved the script and my character.
"After House Full I got plenty of appreciation for my role as Deepika's brother and I enjoy doing comedy," Arjun said. "Also, the film is his home production, and I have to do it," he added.
Sanjay Dutt's business partner Dharam Oberoi confirmed that Arjun has primarily agreed to do the role because Rascals is a Sanjay Dutt production.
"It's a hilarious con caper film where each character is conning the other, while Arjun plays  the big boss of all the conmen including Ajay Devgn and Sanju" said Oberoi.
He continued, "Arjun even told baba that he could pay him whatever he felt Arjun deserved, but Sanju is the most golden-hearted man in the industry who doesn't like to take anybody's ehsaan but makes everyone happy. Arjun will get what he deserves."
In the past, Arjun Rampal has done cameo for Karan Johar's 'Kabhi Alvida Na Kehna' and special appearances for 'Alag' and 'Honeymoon Travels Pvt Ltd.'