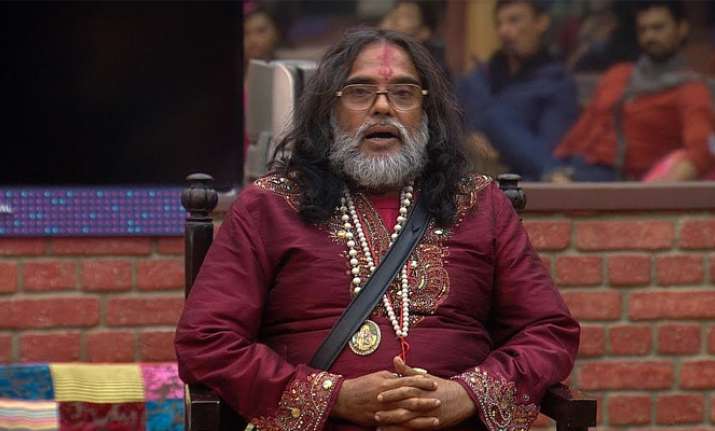 A Delhi court has issued a fresh non-bilable warrant against Bigg Boss 10 contestant Swami Omji Maharaj in connection with a theft case lodged by his brother.
The latest development comes after the self proclaimed Godman failed to turn up in court, despite repeated summons.
Satish Kumar Arora, Chief Metropolitan Magistrate (CMM) issued the arrest warrant, and directed Omji to appear in the court on the next date of hearing on December 3. He also forfeited his bail bond and surety bond.
"Despite repeated calls, the accused has failed to turn up. Perusal of the file reflects that vide order dated October 14, 2016, as the accused remained absent, NBWs were directed to be issued against the accused for November 8, 2016," the CMM said.
The court noted that on November 8, an application seeking his exemption from appearance was allowed and the NBW was stayed with a direction to him to appear "positively" on the next date on November 21, yet he failed to comply with.
"On an application for restoration of surety preferred by Mukesh Jain for the accused, NBWs were stayed vide proceedings dated November 2, with directions to the accused to appear on November 8 again, but he was absent and his surety with counsel appeared and preferred an application seeking exemption from personal appearance which was allowed with cost and with directions to the accused to positively remain present for this day.
"In view of the above and seeing the conduct of the accused, his bail bond and surety bond are forfeited and NBWs are directed to be hereby issued against him with notice to his surety through DCP Crime for December 3," it said.
In November 2008, an FIR was registered against Vinodanand Jha aka Swami Omji on a complaint by his younger brother Pramodh Jha, who accused him of breaking the lock of his bicycle shop in Lodhi Colony here along with three men and stealing 11 bicycles, expensive spare parts, sale deed of the house and important documents.
The self-proclaimed godman also faces charges under the Arms Act, Terrorist and Disruptive Activities (Prevention) Act in other matters.
Swami Omji entered the tenth season of 'Bigg Boss' as an India-waala contestant. Over the weeks, he has been involved in many arguments in the house. A few weeks ago, he was taken from the house to a secret room where he could oversee everything that was happening in the premises.
(With PTI Inputs)