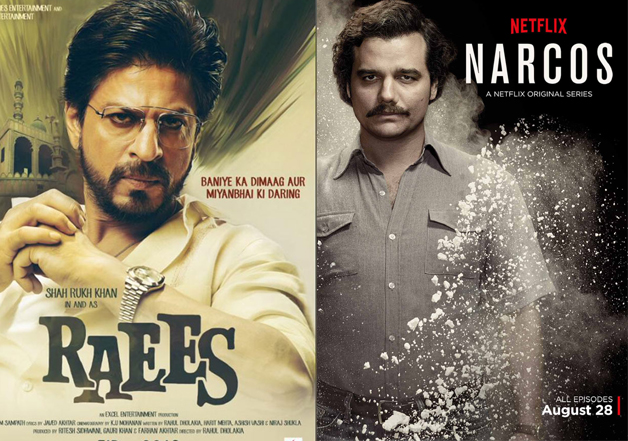 Superstar Shah Rukh Khan released the trailer of his forthcoming movie 'Raees' earlier this week and stunned everyone. Stuffed with effective dialogues, the trailer amassed a lot of appreciation. Amid all the buzz that the trailer generated, a video featuring dialogues from the trailer and merged with the series 'Narcos' has surfaced. The blend is so perfect that even King Khan approved of it.
For those who don't have a clue, 'Narcos' is a based on the life of drug kingpin Pablo Escobar. Pablo was a Colombian drug lord and trafficker. He became a billionaire through the production and distribution of cocaine. The series also chronicles Pablo's involvement with opposition entities and his tussle with DEA (Drug Enforcement Administration) agents. The series aired in Netflix in 2015 and gained worldwide popularity.
Raees's trailer pointed out that the bootlegger Raees Alam is quite aggressive for his business' thriving. In this quest of his, Raees locks horns with ACP Patel (played by Nawazuddin Siddiqui).   
Now since Pablo's story and that of Raees Alam's (from Raees) were on comparable lines, the video seems legit.
The video even impressed Shah Rukh and he tweeted it:
https://t.co/GWaY0mmHf1 my favourite show done on Raees dialogues. I like.

— Shah Rukh Khan (@iamsrk) December 10, 2016
It must be said that like Shah Rukh, this video may also astound fans of Narcos.
'Raees' is all set to release on January 25, along with Hrithik Roshan's 'Kaabil'. 'Kaabil' vs 'Raees' has become a hot topic for discussion in Bollywood. Earlier both movies were scheduled to release on January 26, but then makers of 'Kaabil' announced they would release their project on 25th at 6 PM. Few days later, the announcement came that 'Raees' would hit screens from 25th right from the morning shows.