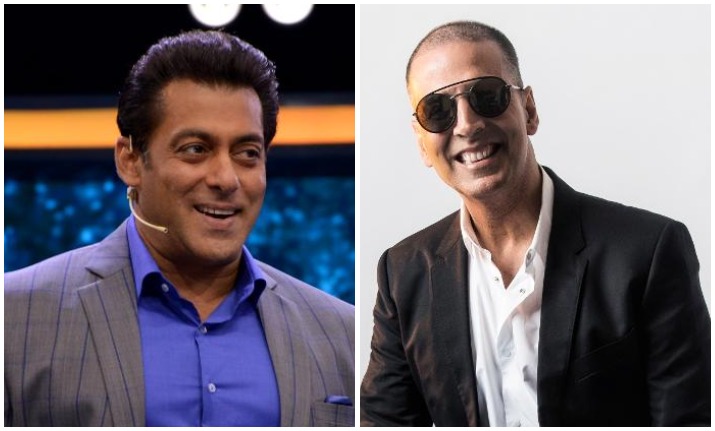 Bollywood actors Akshay Kumar and Salman Khan who are riding high on success after the magnificent victory of their films at the box office in 2017, manage to find place in World's 100 highest-paid celebs. However, surprising is that, Badshah of Bollywood Shah Rukh Khan fails to find a spot in the coveted Forbes' list. He has been regular on the list of highest paid celebs in the past. In 2018, world's highest earning celebrity is American boxer Floyd Mayweather. Akshay Kumar is ranked 76th on the list while Salman Khan bags the 82nd place.
According to Forbes' World's Highest Paid Celebs, Akshay Kumar has earned $40.5 million this year. Describing the PadMan actor, the magazine wrote, "One of Bollywood's leading men has transitioned to socially-conscious roles, such as 'Toilet,' a comedy supporting government campaigns to improve sanitation, and 'Padman,' about a guy hoping to provide inexpensive sanitary pads to rural communities. He still mints millions from backend profits and endorsing some 20 brands, including Tata and Eveready."
For Salman Khan, Forbes wrote, "This Bollywood mainstay continues to produce and star in hits such as 'Tiger Zinda Hai,' cashing in on backend profits. Coupled with a slew of endorsements from Suzuki motorcycles to Chlormint gum, he remains one of India's top earners."
Mayweather is on the top of the list with earnings of total $285 million. Actor George Clooney is ranked second. Kylie Jenner is on the third while football star Cristiano Ronaldo is also on the list. Forbes also stated that the world's 100 top-earning entertainers pulled in a combined $6.3 billion pretax over the past 12 months, up 22% from last year and 11 superstars crossed the $100 million benchmark.
Here is the list of World's Top 10 Highest Paid Celebrities
Floyd Mayweather: $285 million
George Clooney: $239 million
Kylie Jenner: $166.5 million
Judy Sheindlin: $147 million
Dwayne Johnson: $124 million
U2: $118 million
Coldplay: $115.5 million
Lionel Messi: $111 million
Ed Sheeran: $110 million
Cristiano Ronaldo: $108 million