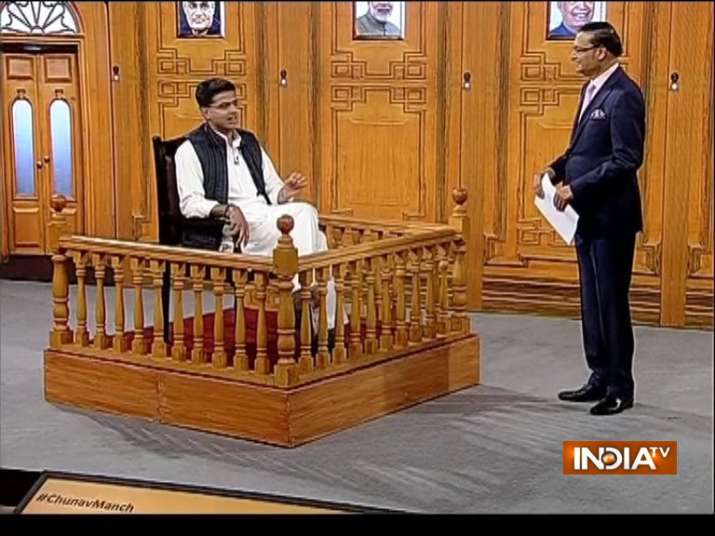 Exuding confidence by saying that the Congress "is within striking distance of forming a government in Rajasthan", state Congress chief Sachin Pilot today said that "by projecting Vasundhara Raje as the chief ministerial candidate, BJP has made our work easier". 
Replying to queries from Rajat Sharma in the India TV show Aap Ki Adalat, recorded in Jaipur today, Pilot said: "I sometimes congratulate BJP leaders for projecting Vasundhara as their chief ministerial candidate, otherwise Congress would have been forced to exert itself two to five per cent more during campaign. With Vasundhara as the face of BJP, nobody can now stop the anger of voters in Rajasthan…On the other hand, we are within striking distance of coming to power."
Pilot alleged that chief minister Vasundhara Raje's rule for the last five years had been one of "arrogance" (ahankaar). 
"During her rule, 17 to 18 thousand schools were closed down, hospitals were privatized, pensions, rations and scholarships were discontinued, and the only issues her government concentrated was giving out contracts for mining, stone quarries and liquor. With 165 MLAs, she could have changed the face of our state", he said. 
The PCC chief countered all queries about the leadership issue by saying the Congress Legislature Party would decide after the elections. He went to the extent of saying that "in the last 70 years, never had the Congress projected anybody as chief minister in Rajasthan. We are not individual centric, we are ideological- and organisation-centric."
Asked whether the party may have to chose its chief minister among the two top contenders, Pilot replied: "I say with pride, why two? There are half a dozen, if not 12 to 14 such leaders who can reach the highest post".
Pilot said, "the real tussle is in the BJP between party president Amit Shah and chief minister Vasundhara Raje. For 75 days, they failed to appoint their state unit president, because of internal tussle."
"For us in the Congress, the issue is not of who will be the leader after the elections, but of governance", Pilot added. 
On BJP president Amit Shah's assertion that his party would continue to stay in power in Rajasthan like "Angad's feet", Pilot replied: "I want to tell him that this is not the Sin city of Lanka, where we need Angad's feet, Rajasthan is the land of warriors". Angad, according to Ramayana epic, was the son of the monkey king Sugriva, Lord Rama's ally, and it used to be said that nobody could dislodge Angad's feet. 
Asked about the role of Congress rebels in the elections, Pilot said, "there were 20 to 25 aspirants for each seat, and based on feedback and consensus, we selected our candidates. In every elections, there are dissidents, but the undercurrents and sentiment (among people) are such that the voters are going to vote for us." (voter baagi, daaghi chood kar haath par vote dalega)
Pilot alleged that most of the claims of Vasundhara government were "outright lies"(saraasar jhoot).
"Please do not go by statistics. Please visit villages hardly 60 km from Jaipur, and you will know. In Ajmer district, 1,20,000 toilets were claimed to have been built, but grant of Rs 12,000 each was not given. 17 lakh people in the state built toilets, but most of them do not have running water, and yet the villages were declared ODF (open defecation free)", he said.
The PCC chief promised to give topmost priority to jobs if his party came back to power. "Our government will be run in a transparent manner", he added. 
Watch: Sachin Pilot in Aap Ki Adalat