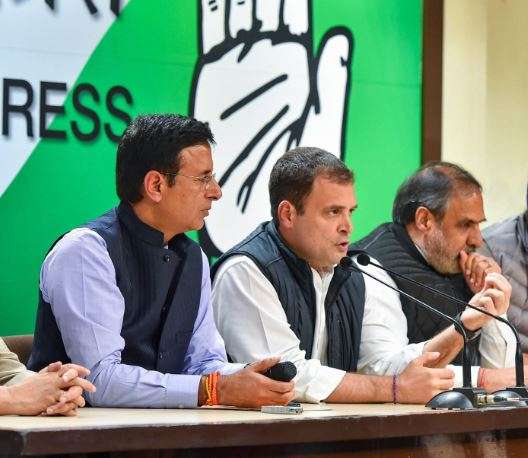 The Congress fell just two seats short of a full majority in Madhya Pradesh after counting for Assembly elections finally came to an end on Wednesday morning. The Congress, which got 114 seats in the 230-seat Madhya Pradesh Assembly, got support from Mayawati's Bahujan Samaj Party (BSP) and Akhilesh Yadav's Samajwadi Party paving the way for returning to power in the central state after a gap of nearly 15 years. Kamal Nath is likely to be the CM in Madhya Pradesh. Earlier, CM Shivraj Singh Chouhan tendered his resignation to Governor Anandiben Patel after the BJP could bag only 109 seats, a loss of 56 seat from the 2013 Assembly elections. "As we have not got clear majority, we are not going to stake claim to form the government. And I am going to the Governor to resign as the Chief Minister," Shivraj told reporters before heading to Governors House. In Rajasthan, the Congress is undecided whether to pick Sachin Pilot or Ashok Gehlot as the CM. The decision is likely to come on Thursday.  
Assembly  Elections 2018: Full Coverage
Here are the highlights:
9:58 pm: It's a normal procedure for Congress party legislators to give their feedback to observers. Observers give feedback to Congress President&then a final decision is taken. We've authorised Congress Pres to take a final view as to who will head CLP leaders of the party: Sachin Pilot
8:30 pm: A 5-member delegation of Congress party, including Kamal Nath, Jyotiraditya Scindia and Digvijaya Singh, met Governor Anandiben Patel today to stake their claim to form government in Madhya Pradesh
7:35 pm: In Rajasthan, the decision on the CM candidate likely tomorrow
7:30 pm: Ashok Gehlot, Sachin Pilot and other Congress leaders arrive at the Governor's House in Jaipur
6:28 pm: All the MLAs have unanimously decided that a decision on the Chief Minister (of Madhya Pradesh) will be taken by Rahul Gandhi ji: Shobha Oza of Congress​
6:13 pm: Kamal Nath is likely to be the new CM of MP. Jyotiraditya Scindia proposed his name and Congress leader Digvijaya Singh supported it. However, the final decision rests with Rahul Gandhi: Sources
5:12 pm: Name of new MP CM likely to be announced shortly: Sources
5:10 pm: Meeting of Congress Legislature Party underway in Bhopal
3:42 pm: I take full responsibility for the defeat of the BJP in the state: Shivraj Singh Chouhan
3:40 pm: I urge Congress party to run state government in a proper way: Shivraj Singh Chouhan
3:38 pm: BJP will form government again in Lok Sabha elections 2019: Shivraj Singh Chouhan
3:34 pm: I called Kamal Nath and congratulated him for the Congress party's victory. My government worked for farmers and poor people: Shivraj Singh Chouhan
3:30 pm: When I took reins of the state, it was in deplorable condition: Shivraj Singh Chouhan
3:27 pm: Shivraj Singh Chouhan​ gets emotional during the press conference 
3:25 pm: We tried our level best to work for the people of the state: Shivraj Singh Chouhan
3:20 pm: We accept the mandate with humility: Rakesh Singh of BJP
3:18 pm: We have not got the votes as per the expectation: Rakesh Singh of BJP
WATCH VIDEO: Shivraj Singh Chouhan resigns as Madhya Pradesh CM, says will act like a 'chowkidar' now
2:55 pm:  We welcome the mandate. We didn't perform well but we would like to thank the public of Madhya Pradesh for supporting us. We have decided to support Congress in MP. BJP has spread hatred and deceived public, they will be given an answer in Lok Sabha elections: 
2:00 pm: I thank people of Madhya Pradesh for showing faith in the Congress. I also thank BSP and SP for extending support to Congress to form government in state, says Jyotiraditya Scindia. "I will consider my self fortunate if given an opportunity to be the CM of Madhya Pradesh," Scindia tells India TV.
WATCH: What Scindia said over MP CM post candidature
1:49 pm: Meeting of Congress MLAs ends in Jaipur. Final decision regarding CM post will be taken by party president Rahul Gandhi.
1:35 pm: Sources within the Congress say that about two-third of the newly elected MLAs in Rajasthan favour Sachin Pilot to be the CM over Ashok Gehlot. Supporters of both the leaders clash outside Congress headquarters in Jaipur.
1:20 pm: Kamal Nath arrives at Shivraj Singh Chouhan's house in Bhopal for 'courtesy meeting'  after submitting a list of 121 supporting MLAs to Governor Anandiben Patel.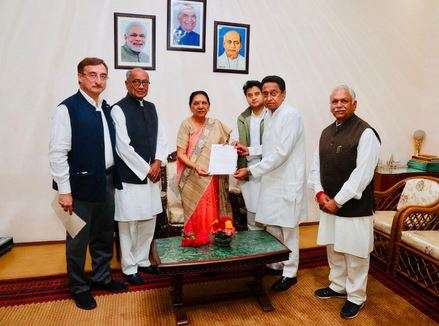 1:10 pm: Supporters of Sachin Pilot and Ashok Gehlot clash outside party office in Jaipur. Top Congress leaders are currently meeting MLAs to decide as to who will be the Chief Minister.
12:54 pm: We have met Governor and staked claim to form Govt, we have the support of 121 MLAs, the situation is clear, says Congress Madhya Pradesh leader Narendra Saluja
12:50 pm: A meeting of newly elected MLAs of the Congress is currently underway in Jaipur. Discussion over their preference for CM post is on.
12:35 pm: Former Congress president Sonia Gandhi has described the party's good showing in the assembly poll in three Hindi heartland states as a victory over the BJP's 'negative politics'. "It was a Congress victory over the BJP's negative politics," she said.
12:01 pm: Kamal Nath, Digivijaya Singh, Jyotiraditya Scindia arrive at Raj Bhavan in Bhopal to meet Governor Anandiben Patel to stake claim to form government in Madhya Pradesh. 
11:55 am: Jyotiraditya Scindia reportedly holds meeting with 30 MLAs ahead of Congress staking claim to form goverment. The party is yet to finalise CM face for Madhya Pradesh. The Congress had on Tuesday night submitted a letter to the governor seeking an appointment, after it emerged as the single largest party.
In Chhattisgarh, where the Congress won a landslide victory, Lok Sabha member Tamradhwaj Sahu, state party chief Bhupesh Baghel and senior leader T S Singhdeo are front-runners for the CM post.
Meanwhile, the Congress has sent observers to the three states to oversee the government formation. Leader of Congress in Lok Sabha Mallikarjun Kharge has been sent to Chhattisgarh. Party leader KC Venugopal has been appointed as an observer to Rajasthan and AK Antony to Madhya Pradesh.