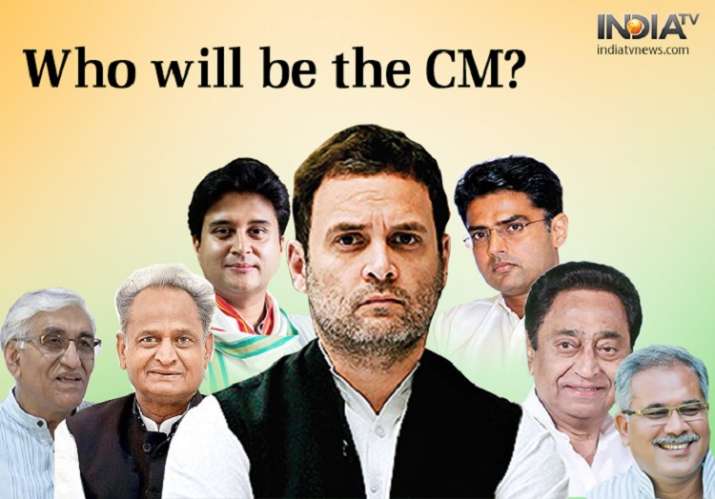 Assembly election victory in three states - Madhya Pradesh, Chhattisgarh and Rajasthan - has brought in fresh headache for the Congress as the party is now struggling to pick chief ministers in these states. All eyes are now on Congress president Rahul Gandhi, who has been entrusted by newly elected legislatures to select CMs for the three states. Rajasthan CM candidates Ashok Gehlot and Sachin Pilot have flown to Delhi where they met the party chief. Priyanka Gandhi was also present during the meeting, sources said. Both Pilot and Gehlot returned to Jaipur after the meeting which lasted nearly 40 minutes.
Rahul Gandhi also met observers appointed for the three states and other senior leaders and a decision is expected later in the day..
"We are taking inputs from different people in the party. We are taking inputs from MLAs, from workers. You will see a Chief Minister soon," Rahul Gandhi told reporters.
WATCH: 'You'll see a CM soon', says Rahul Gandhi
​
Rahul Gandhi's innovative way of picking CMs 
Amid hectic parleys, the Congress chief has also reached out directly to the party workers in the three states to know their top choice for the chief minister post through an internal mobile messaging app.
Also Read: Rajasthan: Congress stakes claim to form government; party MLAs authorise Rahul Gandhi to decide on CM
Rajasthan 
Top two CM contenders Sachin Pilot and Ashok Gehlot have been summoned to New Delhi where they will meet Rahul Gandhi. The delay in decision has given rise to discontent among party cadres in Rajasthan. Supporters of Gehlot and Pilot clashed outside the party headquarters in Jaipur on Wednesday during a meeting of newly elected lawmakers to come a conclusion over the CM choice.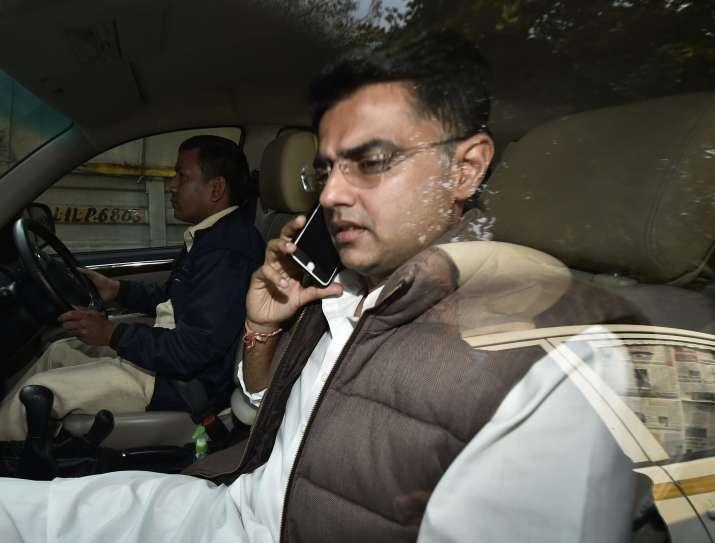 After a late night meeting, Pilot told waiting reporters that the process of getting the feedback was almost complete and the party high-command would take the final decision on Thursday.
He did not give any direct reply to a pointed question on whether he was ready to take the responsibility, saying "Let's see, what happens".
 
Madhya Pradesh 
In Madhya Pradesh, three-time Chief Minister Shivraj Singh Chouhhan tendered his resignation to Governor Anandiben Patel on Wednesday. On the other hand, Congress team, which included two top contenders for the CM's chair - Kamal Nath and Jyotiraditya Scindia and veteran leader Digivijaya Singh - later met the Governor to stake government claim.
Scindia also later told reporters that a final decision was expected on Thursday. "Why not? I will be fortunate to get a chance," Scindia told IndiaTV when asked about whether he was ready to accept the CM post.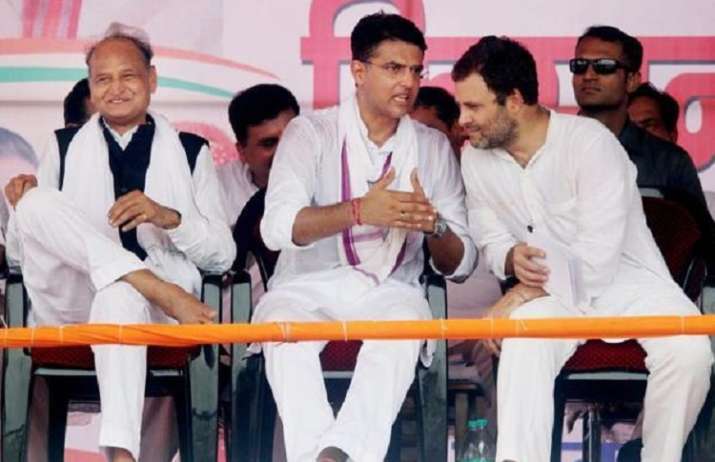 Chhattisgarh
The MLAs in Chhattisgarh also met late evening on Wednesday in Raipur in presence of the party's central observer Mallikarjun Kharge. 
There are as many four names doing the round for the state chief minister post - Lok Sabha member Tamradhwaj Sahu, state party chief Bhupesh Baghel, leader of opposition in the outgoing assembly TS Singhdeo and senior leader Charandas Mahant.
WATCH: Suspense over CM face in Rajasthan, MP, Chhattisgarh continues 
(With inputs from PTI)