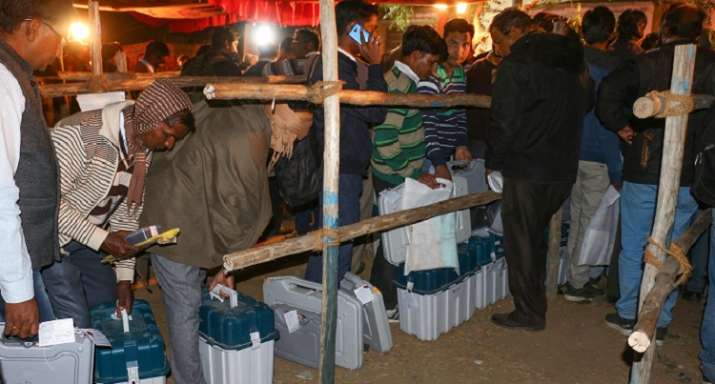 Assembly elections in five states are over and exit polls have projected a mixed picture for Madhya Pradesh, Chhattisgarh, Telangana, Rajasthan and Mizoram. The results, which are scheduled to be announced on December 11, are likely to have an impact on 2019 Lok Sabha polls. If final results of these Assembly elections are similar to exit poll predictions, what will they mean for the BJP, Congress and other regional parties? 
India TV-CNX exit polls predict Congress return to power in Rajasthan, record 4th term for BJP in MP and Chhattisgarh, TRS may retain power in Telangana
1. First major success for Rahul Gandhi's leadership
As per the exit polls, the Congress is likely to return to power in Rajasthan and engaged in a close contest in the twin states of Madhya Pradesh and Chhattisgarh. A positive outcome on December 11 is certain boost Congress president Rahul Gandhi's image ahead of the 2019 general elections. However, it would not be a cakewalk for the Congress in Rajasthan, Madhya Pradesh and Chhattisgarh primarily beacause the party has not projected any CM face in any of these states. On the other hand, the BJP could get an advantage of declaring the CM faces in the three states. 
Assembly Elections 2018: Full Coverage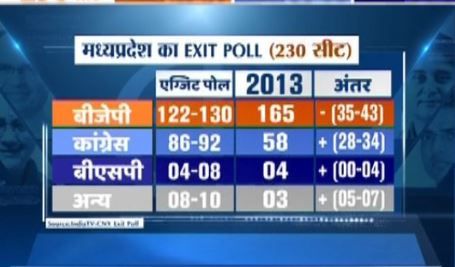 2. Grand Alliance fails to have any impact in Telangana
The Congress stitched in a Grand Alliance in Telangana hoping to dent K Chandrasekhar Rao's TRS' chances in Assembly elections. The Congress alligned with Chandrababu Naidu's TDP, however, Telangana voters seem to have rejected the idea of Mahagathbandhan. Most of the exit polls have predicted a win for TRS. As per the predictions, CM K Chandrasekhar Rao's decision to dissolve the Assembly just before the full-five year term is likely to have a positive outcome. While the BJP is out of the race in this southern state, it wouldn't be that unhappy if TRS retains power.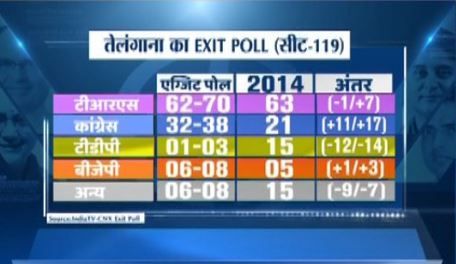 WATCH: IndiaTV-CNX Madhya Pradesh Exit Poll
3. Questions over Vasundhara's leadership
Reports about infighting in BJP's Rajasthan unit over the issue of Vasundhara Raje's leadership skills is not new. Her direct tussle with party's central leadership has been often reported in media. However, Vasundhara has managed to keep herself afloat amid all controversies. If exit poll predcitions come true on December 11, Vasundhara would be on her way out. In case the BJP is voted out in Rajasthan, the party could look towards Gajendra Singh Shekhawat or Rajyavardhan Singh Rathore to lead the unit in the state.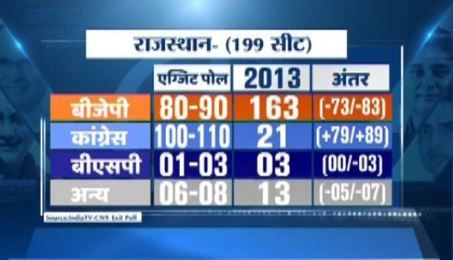 WATCH: IndiaTV-CNX Rajasthan Exit Poll
4. Regional parties fail to have any impact
As per exit polls, regional parties will have no or marginal impact on Assembly election results. But these smaller parties could very well affect the total seats of bigger parties like the BJP and Congress. Apart from this, it would also be a setback for leaders like Akhilesh Yadav and Mayawati who opted not to get into an alliance with the Congress in any of these states.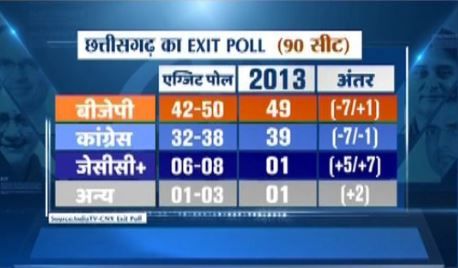 WATCH: IndiaTV-CNX Chhattisgarh Exit Poll
5. Impact on 'Brand Modi'
'Brand Modi' will suffer a dent if December 11 results are on the lines of exit poll predictions. The BJP used PM Modi 'star' attraction in Rajasthan, Madhya Pradesh and Chhattisgarh. PM Modi held multiple rallies in these states apart from addressing a couple of election gatherings in Telangana and Mizoram. During the election campaigning, the BJP kept its focus on the fact that if Modi has to return as PM in 2019, victory in these states was important. If Congress manages to win Rajasthan and also in Madhya Pradesh, Chhattisgarh, it will dent PM Modi and Amit Shah's 'invincible' image. 
WATCH: IndiaTV-CNX Telangana Exit Poll
6. Boost for Opposition in Winter Session of Parliament 
The Opposition led by the Congress will get a fresh supply of Oxygen if final results are similar to exit poll predictions. Buouyed by the win, the Congress and other Opposition parties would every chance to corner the BJP-led NDA government during the Winter Session of Parliament which is likely to start next week.
7. Congress losing base in Northeast
According to exit polls, the Congress may fail to retain power in Mizoram, its last bastion in the Northeast. Loss of the Congress would mean that its  once strong vote base in Northeast India has now eroded.