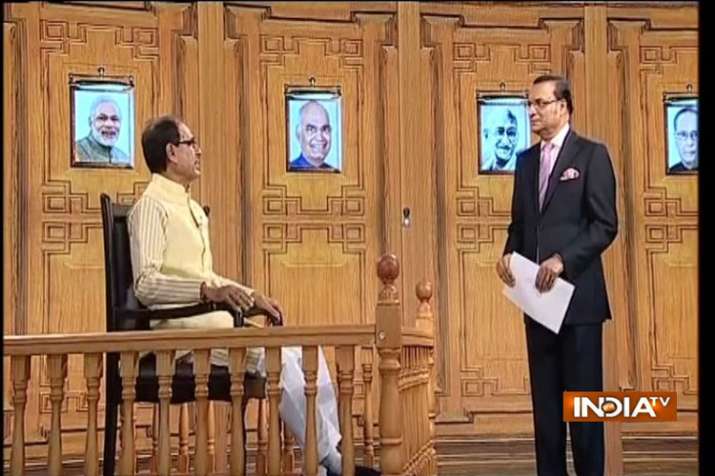 He has been the chief minister of Madhya Pradesh for 13 years and appears set for a fourth term. Despite the hugely successful and long tenure as the CM, Shivraj Singh Chouhan has no intention to move to Delhi for a bigger role. 
Responding to questions from India TV Editor-in-Chief and Chairman Rajat Sharma on the show - Aap Ki Adalat - Shivraj Singh Chouhan put down to rest any talk about him eyeing the PM's post.
"I don't intend to go anywhere. I have been working for the people of my state for 13 years and aim to continue doing that. I don't want to be the PM. Only Narendra Modi fits that chair," Chouhan said.
Full Coverage: India TV Chunav Manch - Madhya Pradesh
Shivraj Chouhan expressed confidence of retaining power in Madhya Pradesh and said the BJP would win a thumping majority.
"The BJP will not only win Assembly elections but it will get an overwhelming majority. I hope you'll invite me in Aap Ki Adalat when BJP forms government for the fourth time in Madhya Pradesh," Shivraj Chouhan said. 
"Only a person who rules the heart of people can rule for 13 years," he added. 
Talking about Congress president Rahul Gandhi, Shivraj described him as 'fun machine'. 
"Rahul Gandhi is fun machine. The Congress president always criticise me for making tall promises and doing nothing. But I believe that only those who are capable of fufulling promises talk about them," CM Chouhan said.
WATCH: Congress unable to tolerate a farmer's son as CM, says Shivraj Chouhan
"The whole nation believes in Prime Minister Narendra Modi's honesty and hard work. Rahul Gandhi should not use offensive words against the prime minister," he said when asked about Rahul Gandhi's continuous attack on the PM.
Here's what all Shivraj Singh Chouhan said:
1) We have not lagged behind in providing employment opportunities to the people of the state; though we accept that there is still need to provide more of those.
2) 'Sabka Saath-Sabka Vikas' is the motto of BJP. We always aim to take everyone together irrespective of caste or religion. We are committed to work for every section of society.
3) Madhya Pradesh was a bimaru state when I took charge, but now it is one of the most developed states of the country. However, this is just the beginning, more needs to be done. We are working to prepare a roadmap to develop Madhya Pradesh. Dil abhi bhara nahi...
4) It was me who ordered a probe into Vyapam Scam. Congress tried best to drag me into it but the truth prevailed in SIT investigation and Supreme Court. 
5) The Congress just can't tolerate that a farmer's son has been ruling the state for 13 years.
6) My government has launched several schemes for the welfare of women. It was my government which made 'mother, daughter, sister' an agenda which needed urgent attention. 
7) As many as 14 people have been given death sentence in Madhya Pradesh in rape cases. I have said this repeatedly that women safety is our topmost priority.
8) Unemployment is certainly an issue and it can not be resolved overnight. But my government is working towards it. Companies like TCS are now in Madhya Pradesh. We are committed to provide our jobs to our youngsters.
9) As the chief minister, it is my responsibility to come up with new plans and schemes for the welfare of the people, apart from improving the existing condition of the state.
10) We have decided to dedicate a department for cow protection, says Shivraj Singh Chouhan. Saints have always blessed me. Wrong to say that they are angry with me.
WATCH: Rahul Gandhi hugging PM Modi in Parliament was mere drama, says Shivraj Chouhan