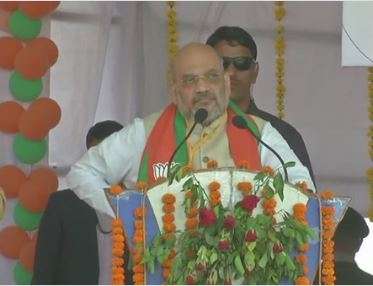 The Bharatiya Janata Party (BJP) president Amit Shah on Thursday attacked the Congress party and asked who is the grand old party's leader in Madhya Pradesh?
"We will contest polls in Madhya Pradesh under the leadership of CM Shivraj Singh Chouhan. But I want to ask Congress party, who is their leader in Madhya Pradesh? These people neither have a leader nor a policy for the state," Shah said in Shajapur, reported news agency ANI.
Meanwhile, on Wednesday, Madhya Pradesh Chief Minister Shivraj Singh Chouhan took jibe at Congress president Rahul Gandhi and said he "doesn't even know whether onion grows in the soil or above it".
"Rahul Baba doesn't even know whether onion grows in the soil or above it. He's confused, he says my son's name came up in Panama papers. We are mere farmers, we don't even know what Panama is. Can confused people like him run a government?" said Chauhan, reported ANI.
It is pertinent to mention here that recently Rahul Gandhi "by mistake" dragged the name of MP CM's son in Panama Papers case. However, later Congress president admitted his mistake.
[ALSO READ] MP polls 2018: Digvijaya Singh and Jyotiraditya Scindia indulge in verbal spat in presence of Rahul Gandhi
To elect members of the 230 constituencies in Madhya Pradesh, elections to the state Legislative Assembly will be held on 28 November 2018.
The elections are being seen as a direct political battle between the BJP and the Congress.