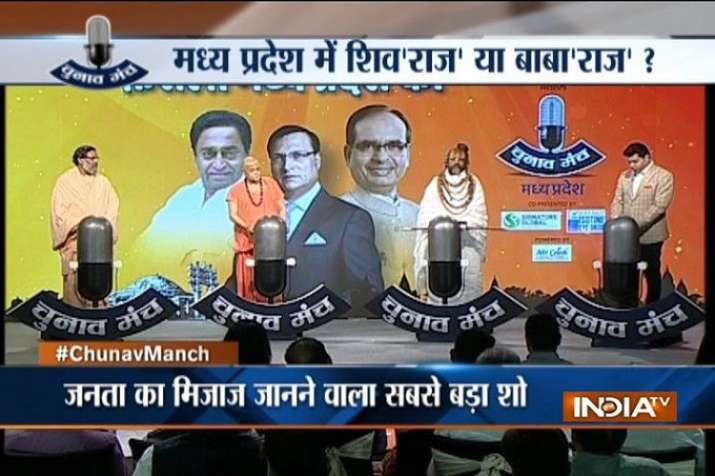 Former minister of state Computer Baba lashed out at Madhya Pradesh Chief Minister Shivraj Singh Chouhan and his government for the poor state of Narmada river and pitiable conditions of cow in the state on Saturday in Bhopal.
Chairman of the Madhya Pradesh Gau Samvardhan Board (cow protection board) Swami Akhileshwaranand Giri, defending the government, said that it is not sure if Computer Baba is a baba.
Speaking at a India TV's Chunav Manch programme, Baba hit out at BJP government in the state for not taking care of Narmada river and cows. He also accused Chouhan of only making tall claims.
Giri, replying to Baba's accusations, said condition of Narmada and cows had significantly improved since the BJP government came to power in the state.
Accusing Shivraj government of not doing anything for the Narmada and cows, Baba said the state government had failed to check illegal mining of sand on the banks of the river.
Dimissing the allegations levelled by Baba, Giri said the government had increased the allocation amount for Cow Protection Board and done their best to stop illegal mining on the banks of Narmada.
In an attempt to end the verbal spat between the two, Swami Nimiyanand said it would send wrong mesage to the people. 
Expressing his concern over the issues raised by Baba, Nimiyanand said that the condition of Narmada and cows had deteriorated since the Shivraj government took over. Bills were charged for the electricity and water used for the cows, more temples had been demolished since Shivraj became CM, he further added.
Watch: Computer Baba criticises MP govt