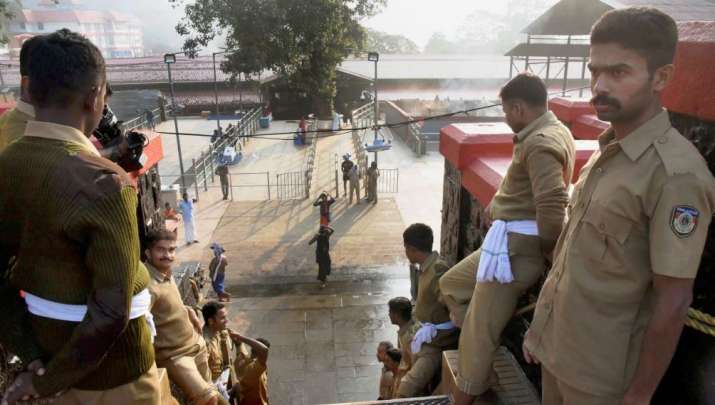 Ahead of the Lok Sabha elections 2019, the protest against the Supreme Court verdict on Sabarimala is part of an all-India game plan of the Bharatiya Janata Party (BJP) and Rashtriya Swayamsevak Sangh (RSS) to stir up communal tensions and create communal polarization, said the Communist Party of India (Marxist).
"Given the all-round failure of the Modi government and with the Lok Sabha elections just six months away, the BJP and RSS have begun to desperately revive communal and divisive issues," said an editorial in the CPI-M journal "People's Democracy".
"Central amongst them is the Ram temple at Ayodhya," the Communist Party of India-Marxist said.
Catch all the latest news about Lok Sabha elections 2019 HERE
The editorial said that the aim of the BJP, RSS and allied groups was to provoke violence and create trouble within the Sabarimala temple premises and to put the blame on the Kerala government led by the CPI-M "for destroying the sanctity of the temple". 
It quoted Kerala BJP President Sreedharan Pillai as saying that their struggle was against the Communist government and not the entry of women into the temple.
The CPI-M said that the Kerala government had acted only against BJP-RSS activists, including some criminal elements, who it alleged wanted to take control of the temple premises.
"There was no hindrance for the tens of thousands of devotees who had begun to flow in to pray at the temple." 
The editorial accused the Congress party in Kerala of "shamelessly" lining up behind the Hindutva forces in condemning the state government and echoing the demands of the Bharatiya Janata Party. 
Meanwhile, Kerala Chief Minister Pinarayi Vijayan on Thursday met Governor P Sathasivam and briefed him about the issues relating to the Lord Ayyappa temple.
The meeting, which lasted for half-an-hour, assumes significance in the wake of protests launched by main Opposition Congress-led UDF and the BJP over restrictions and prohibitory orders in the temple complex, after it opened for the two-month-long annual pilgrim season on November 16.