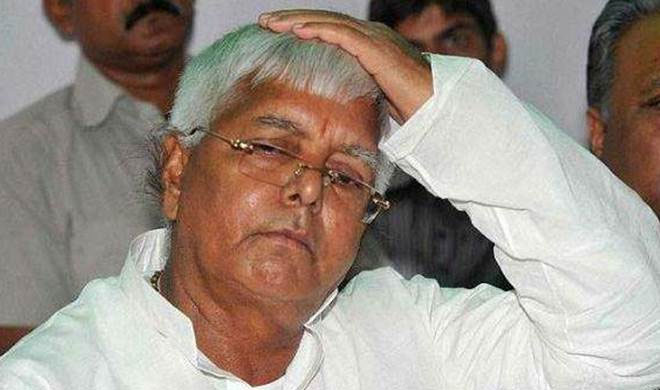 Rashtriya Janata Dal chief Lalu Prasad Yadav on Saturday took a jibe at his ruling BJP and JDU alliance over their equal seat sharing formula. 
Remarking on the ruling alliance's decision to share 50-50 seats in the upcoming 2019 Lok Sabha polls, Lalu' official handle termed the two parties 'Patlimar' and 'Kaltimar' (Turncoat and Cheater). 
RJD cief claimed that both BJP and JDU keep switching between fighting (elections) together and against each other. 
"Aigo ba master in cheatery & bhulakkadi aa dusra ba master in fekri & fakkadi! Pher sath hi ladahin, pher aapas mein ladahin, pher sath ladahin, pher aapas mein ladahin! Aigo ba paltimar, aa dusra ba kaltimar! Pahile paltu-altu ke janata akele-akele haravat rahe, ab duno ke sath mein harayi! Jai Bihar! (One is master in cheating and forgetful behaviour and second is master in boasting and dawdling! They fight together, then against each other, then they fight together, then again against each other! One is turncoat and the other is cheater. First the people used to defeat 'paltu-altu' separately now they will defeat them together! Jai Bihar)," Lalu's official handle tweeted. 
एगो बा मास्टर इन चीटरी & भुलक्कड़ी आ दूसरा बा मास्टर इन फेकरी & फक्कड़ी!

फेर साथ लड़िहें, फेरु आपस में लड़िहें, फेर साथ लड़िहें, फेरु आपस में लड़िहें!

एगो बा पलटीमार, आ दूसरा बा कल्टीमार!

पहिले पलटू-अलटू के जनता अकेले-अकेले हरावत रहे, अब दूनो के साथ में हराई!

जय बिहार।

— Lalu Prasad Yadav (@laluprasadrjd) October 27, 2018
Lalu's jibe comes a day after BJP chief Amit Shah and JD (U) leader and Bihar chief minister Nitish Kumar announced that their parties will contest on equal number of seats in Bihar in the 2019 Lok Sabha elections.
Bihar has 40 Lok Sabha seats. The two parties will also accommodate allies LJP and RSLP, the two leaders said.
The decision was announced after Bihar CM had a meeting with Prime Minister Narendra Modi in New Delhi. Later, Kumar held an hour-long meeting with Shah.
BJP had won 22 seats in Bihar in the 2014 Lok Sabha elections while LJP won six and RLSP three. JDU had contested alone and could manage only two. Both BJP and JDU have made a compromise on the seats under the agreement reached on Friday.