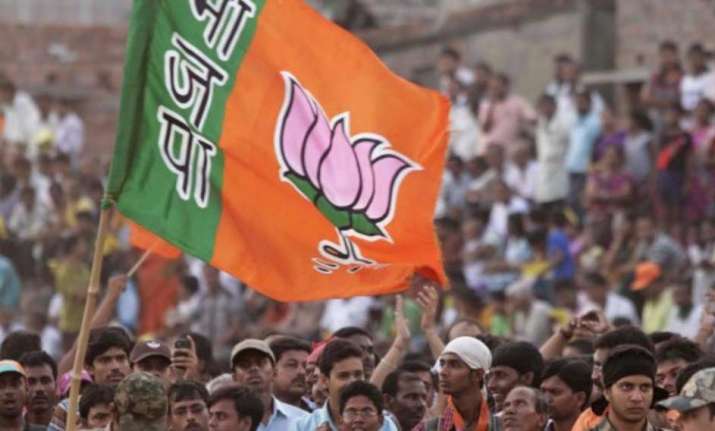 Lok Sabha elections 2019: Ahead of next year's parliamentary elections, the Jammu and Kashmir unit of the BJP today announced a new team of office-bearers which included 11 vice-presidents, three general secretaries and 10 state secretaries.
The new team also include one state chief spokesperson, 10 state spokespersons, five publicity, additional publicity and press secretaries and two office secretaries, the party said in a statement here.
BJP state president Ravinder Riana nominated the new team in consultation with BJP national vice-president and J&K 'Prabhari' (in-charge) Avinash Rai Khanna, state general secretary (organisation) Ashok Kaul and other senior leaders.
Catch all the latest news about Indian politics HERE
Those nominated as vice presidents of the party included Harinder Gupta, Pawan Khajuria, Arun Gupta, Poornima Sharma, Girdhari Lal Raina, Tsering Gonboo (Leh), Davinder Manyal, Parmod Kapahi, Sofi Yousuf and Rajeev Charak.
According to the statement, Narinder Singh, Sunil Sharma and Yudhvir Sethi have been nominated as state general secretaries, while Rajinder Sharma, Sunil Gupta (Poonch), Aseem Gupta, Anil Parihar (Kishtwar), Sanjay Baru, Veenu Khanna, Ragunandan Singh Babloo (Kathua), Praduman Singh, Ajay Gupta (Pargal) and Suresh Ajay Magotra have been nominated as state secretaries.
Sunil Sethi has been retained as state chief spokesperson and chairman of recently constituted state disciplinary committee of the party.
Catch all the latest news about Lok Sabha elections 2019 HERE
Those nominated as state spokespersons include Brig (retd) Anil Gupta, Priya Sethi, R S Pathania, S S Bijral, Ishtaq Wani, Balbir Ram Rattan, Khalid Jahangir, Altaf Thakur, Ashok Khajuria (refugee cell) and Tahir Choudhary, the statement said.
Jaidev Rajwal will continue to look after the IT and social media, it said.
Tilak Raj Gupta was nominated as sate office secretary and Suresh Sharma as additional office secretary, the statement said, adding that Naresh Dogra is appointed as publicity secretary, Surinder Choudhary and Arun Chhibber as additional publicity secretaries, Pardeep Mahotra as state press secretary and Rakesh Mahajan as additional press secretary.
Suraj Singh was nominated as media secretary and Jugal Gupta as additional media secretary, it said.
Chander Mohan Gupta is state treasurer and Arvind Gupta is additional state treasurer, while Vikas Choudhary has been nominated as state president 'Yuva Morcha' (youth wing) and Rajni Sethi as state president 'Mahila Morcha' (women wing), the statement said.
Rajinder Singh Chib will be state president 'Kissan Morcha' (farmers wing), Jagdish Bhagat as state president Scheduled Caste wing, Sadiq Khan as state president minority wing, Ghulam Ali Khatana as state President Scheduled Tribe, Rashpal Verma as state president Other Backward Class wing, the statement said.
Sanjay Khanna has been nominated as protocol secretary, it said.