Follow us on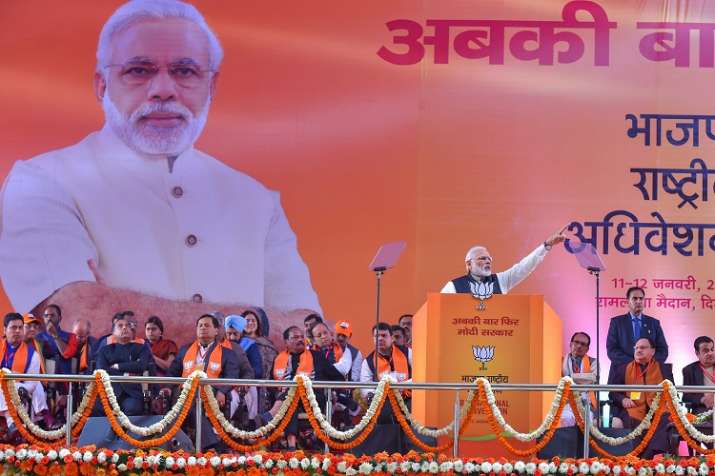 Prime Minister Narendra Modi on Saturday said that the recently announced ten per cent reservation in education and government jobs for youth from economically weaker sections of the society will enhance the confidence of 'New India'.
Addressing the BJP's National Convention in Delhi's Ramlila Maidan, PM Modi said that there has not been any charge of corruption against a government for the first time in the country's history. "The BJP rule has proved that the country can be run without corruption".
He said that while the previous governments saw farmers (annadata) as only matadata (voters), his government was constantly trying to address the challenges faced by them.
The condition of farmers and agriculture at present is a result of decades of "neglect" by those (previous governments) who believed in "shortcuts" and treated the peasants as mere vote bank, Modi said.
"The 'annadata' (provider of food) was turned into a 'mattdata' (voter). We are making sincere efforts to empower them. We want to make farmers the carriers of new energy of a new India," he said.
"Ten-per cent quota given to economically backward classes is to meet the expectations of youths who were not getting opportunities due to poverty. This will enhance confidence of 'New India'. The arrangement is without encroaching on anyone's rights," he said. 
PM Modi also lashed out the Opposition and dubbed the anti-BJP grand alliance as an "failed experiment". He stated that the opposition parties are coming together as they want to form a 'majboor' (helpless) government to promote nepotism and corruption, whereas the BJP wants a strong dispensation for all-round development.
Modi also attacked the Congress over the Ram Temple issue, saying it doesn't want a solution to the Ayodhya dispute and is creating hurdles through its lawyers.
PM Modi said; "We want a strong government so that we can put an end to corruption. These days there is a failed experiment taking place in the country which is known as the grand alliance. They have all gathered together to make a helpless government. They don't want a strong government which will lead to shut down of their shops".
(With PTI inputs)
WATCH VIDEO: