Follow us on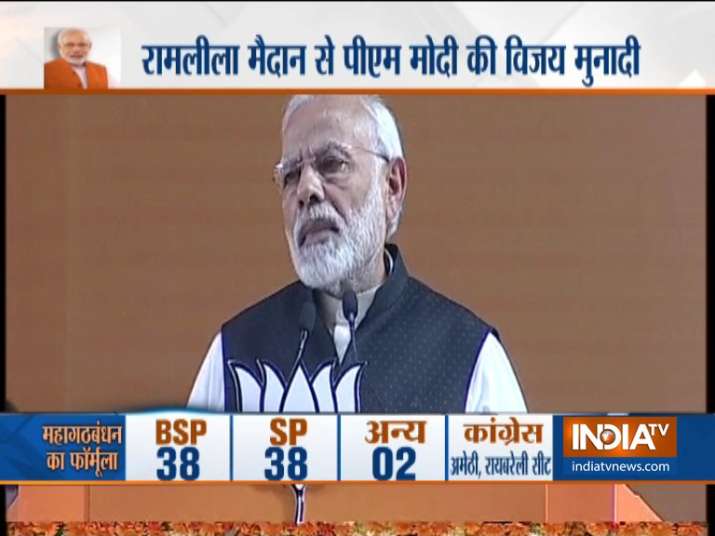 Bharatiya Janata Party's star campaigner and and incumbent Prime Minister Narendra Modi on Saturday blew poll bugle for 2019 Lok Sabha polls at the concluding session of party's national convention in the national capital. 
Addressing party workers, the prime minister slammed the SP-BSP alliance in Uttar Pradesh ahead of 2019 Lok Sabha polls and alleged that everyone was uniting against one individual. He also accused the Congress of creating hurdles in the way of resolution of Ram temple dispute in Ayodhya. 
PM Modi also alleged that the Opposition leaders were trying to overthrow his 'mazboot' government because they wanted a "mazboor" government so that they could indulge in corrupt practices including seeking commission in defence deals.
Defending the Rafale deal, the prime minister said that a "middleman" tried to create environment against the deal because he was lobbying for a rival firm.
BJP National Convention​ Day 2 : HIGHLIGHTS:
2:59 pm: PM Modi concludes his speech
2:53 pm: A Congress minister said Modi will go to jail within a few months. They even sent Amit Shah to jail. But we didn't form a law to stop CBI from entering Gujarat as we had faith in law. These peopl are levelling allegations on agencies because they're scared
2:51 pm: The 12 years when I was chief minister of Gujarat, the Congress tried its best  to harass me. 
2:48 pm: When I was Gujarat CM, I was called by an agency and questioned for 9 hours. But the Congress' first family thinks it is above the law, and doesn't appear before courts despite summons
2:45 pm: In 2007, they were threatening me with jail sentence. UPA govt's single agenda was to implicate Narendra Modi: PM Modi
2:40 pm: Congress creating hurdles in resolution of Ram temple dispute in Ayodhya through their lawyers: PM Modi
2:35 pm: People made fun of ' Beti Bachao, Beti Padhao' for political opposition, but we have come a long way to free society of wrong beliefs that existed for decades: PM Modi
2:33 pm: My govt took important initiatives in last 4 years for women empowerment: PM Modi
2:31 pm: They want a weak govt so that they could get commission in defence deals: PM Modi
2:30 pm: These days, a campaign is going on to publicise a failed experiment in the history of Indian politics by the name of "mahagathbandhan". These people are trying to make a 'majboor sarkaar'. They don't want a 'majboot sarkar' to get formed & their shop to get closed again
2:25 pm: Opposition leaders uniting against one person, they want 'mazboor' and not 'mazboot' govt: PM Modi
2:20 pm: According to media reports, under previous regimes, 'middleman' created hurdles for  the fighter jet deal as he was lobbying for a rival company: PM Modi
2:18 pm: Bank gave loans of Rs 18 lakh cr in 60 yrs and Rs 34 lakh cr in last 6 yrs of Congress governance. There were two means of taking loans in the country. One common process and the other Congress process. In the Congress process, banks were forced to give loans to fraudster friends: PM Modi
2:15 pm: Prior to 2014, public money was being treated as private wealth, the corrupt were being freely given loans: PM Modi
2:11 pm: Has my govt commissioned any scheme under my name, asks PM Modi
2:08 pm: We are trying hard to ensure that the income of farmers gets doubled by 2022: PM Modi
2:07 pm: It was BJP govt which implemented recommendations of Swaminathan Commission report and is working hard to ensure 1.5 times increase income of farmers: PM Modi
2:05 pm: Congress always exploited farmers by treating them as mere vote banks: PM Modi
2:03 pm: 10% quota in education, government jobs to poor youths of general category will enhance confidence of 'new India'
2:00 pm: 10 pc quota given to economically backward classes to meet expectations of youths who were not getting opportunities due to poverty
1:58 pm: New provision for reservation has been made without affecting the people who were already covered under OBC, SC, ST quota: PM Modi
1:55 pm: 10% quota for general category will bring parity in society: PM Modi
1:50 pm: From 2004 to 2010, India lost 10 years amid allegations of scams, corruption: PM Modi
1:47 pm: BJP regime has proved that governments can be run without indulging in corruption
1:45 pm: The government before us pushed the country into darkness. It won't be wrong if I say that India lost 10 important years (2004-2014) in scams and corruption: PM Modi
1:42 pm: PM Modi begins his speech
1:36 pm: The BJP will win in 2019 Lok Sabha polls, says Amit Shah.
1:33 pm: After 2019, the BJP will rule from panchayat to Parliament, says Amit Shah.
1:28 pm: The country has scaled new heights under the laedership of PM Modi, says Amit Shah.
1:18 pm: SP-BSP alliance can't compete with the BJP in UP, says Arun Jaitley.
12:54 pm: Yogi Adityanath slams SP-BSP alliance in UP, calls it casteist.
12:45 pm: "Within 1.5 yrs, UP govt has given houses to 18 lakh poor individuals, irrespective of their caste or religion, under Pradhan Mantri Awas Yojana. Under SP govt, only 63,000 houses were built in 5 years of rule," says Yogi Adityanath.
11:45 am: India did not witness ant terrorist attack in this country after 2014. This govt under the leadership of PM Modi has ensured one thing that there shall not be an opportunity for terrorists to disturb peace: Nirmala Sitharaman
11:20 am: Non-performance and corruption were the main features of the previous UPA govt. However, good governance, ease of business and development has been delivered by Modi ji and our govt in 4.5 yrs as we had promised in our manifesto: Nitin Gadkari
11:00 am: PM Modi pays tributes to Swami Vivekananda
10:58 am: Home Minister Rajnath Singh, UP CM Yogi Adityanath, FM Arun Jaitley and former MP CM Shivraj Singh Chouhan also present at the venue
10:55 am: PM Modi, Amit Shah arrive at Ramlila Maidan
Addressing at the convention on day1, Amit Shah said, the bill providing 10 per cent reservation in jobs and education to Economically Weaker Sections in general category will benefit crores of youth. He accused the Congress of playing politics over the government's initiatives which have been pending for years. Seeking another term for BJP-led government at the Centre, the BJP Chief termed the present dispensation as transparent, corruption-free, decisive and sensitive.
Apart from the prime minister, his cabinet ministers, BJP chief ministers, MPs and senior party leaders, a least 12,000 delegates from across the country are expected to be at the convention. 
Also read | BJP wants Ram temple at earliest, Congress creating hurdles: Amit Shah at BJP National Convention | Key Points