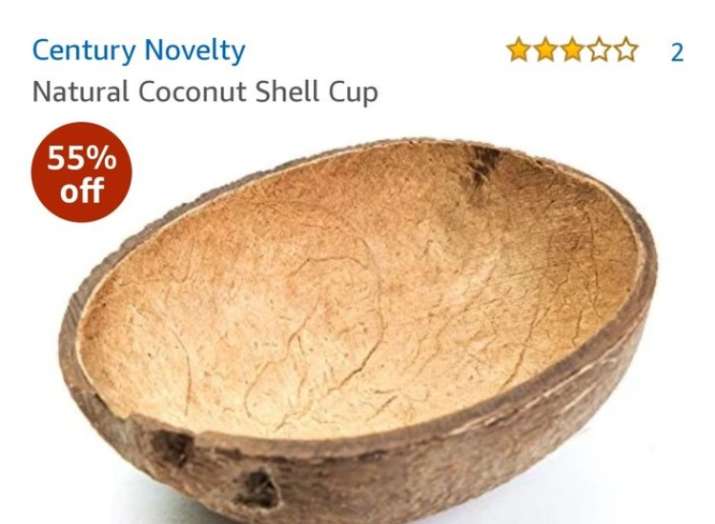 Out of all the mundane and expensive things one encounters on the internet to buy, 'natural' coconut shells top the list when it comes to its bizarre price. After the picture of a simple chicken egg winning the title of the most liked picture on Instagram defeating American TV star Kylie Jenner, Twitterati have found another weirdest thing on Amazon, 'natural coconut shells' which they are selling for nearly Rs 1400. Shocked? Well, there is more to add to your shock, the original price of the shells was Rs 3000 and the discounted price is Rs 1365. 
IPS officer Rema Rajeshwari took to her Twitter to share a screenshot of 'natural' coconut shell cup that Amazon is selling at the hefty price of Rs 1365 and wrote 'Seriously?' The moment it appeared on the internet, it garnered a lot of attention and Twitterati went all gaga about it. The seller on Amazon even used flowery adjectives to market the coconut shell perfectly and added words like 'natural' and 'organic' with it. Interestingly, they even warned that because it's natural it might have cracks and dents. "This is an actual, real, coconut. Therefore, it may have cracks, dents and imperfections," seller Century Novelty wrote on the e-commerce site.
Check out the product here-
Seriously? 🤷‍♀️ pic.twitter.com/btViUdhFbJ

— Rema Rajeshwari IPS (@rama_rajeswari) January 15, 2019
If this wasn't enough, the seller on Amazon even added the use of this expensive and natural coconut shell cup and wrote, "Spice up the Luau Party with Tropical Tableware! Since no luau party is complete until everything is Hawaiian, don't forget the coconut cups! You can use the Hawaiian coconut cup for serving tropical drinks or as a luau table decoration, be creative!"
Twitterati was in shock to see this product online and didn't know if they should laugh at it or cry. Even the reviews of the product says four and five stars. Here's what Twitter said about it-
Question is: what were you looking for that you found this? 🤣

— Danish Manzoor | ದಾನಿಷ್ | دانش (@TellDM) January 15, 2019
Haha, the original price was 3k!

— Rajni Basumatary (@rajnibasumatary) January 16, 2019
Lol..and I came across this review of a fitness band! pic.twitter.com/ZyZE1jgZCf

— KJ (@KeertiJetly) January 15, 2019
Hahahha….I can give them to whoever wants it for free...everyday!

— Me 🇮🇳 (@lotusprings) January 15, 2019
Looks like gold coated coconut shell cup 😬

— RIP CRPF jawans (@mightyysmiter) January 15, 2019
Perfect gift for the appraisal season!

— Ranganath Kini (@codematix) January 15, 2019
January 15, 2019
55% discount! Wow ! I'll sell some property and invest in coconut shells.

— FreeTradeParty (@FreeTradeParty) January 15, 2019
For latest stories and viral videos breaking the internet, check out our BUZZ section!