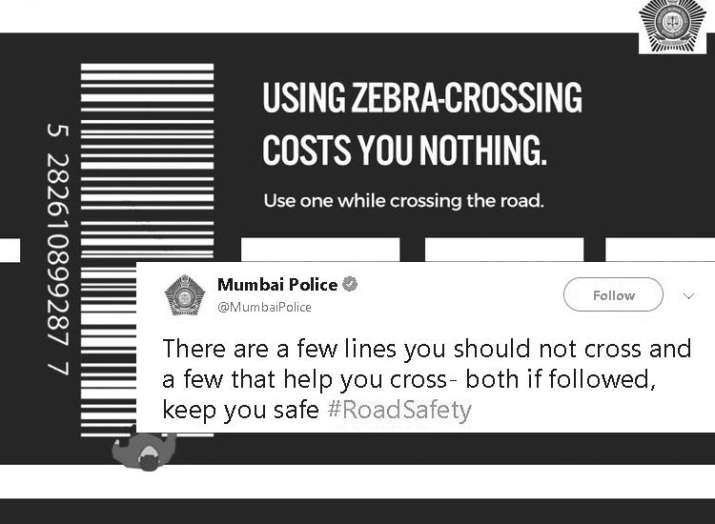 Don't we all agree that Mumbai Police Twitter handle is the sassiest account all across social media? They have time and again proved that they are not just best at what they do but are the most creative and fun-filled cats in the country. From teaching people about cybercrime to warning drivers about seat belt, Mumbai Police knows how to put out their message in the most quirky way. This time again they have picked up the issue of Road Safety and the importance of using Zebra Crossing to cross the road and their sassy wordplay about the lines has got the internet laughing out loud.
Also read: 10 Times Mumbai Police proved they are the 'coolest cats' in the country
They shared a picture of a man using Zebra crossing and wrote, "There are a few lines you should not cross and a few that help you cross- both if followed, keep you safe #RoadSafety." While Tweeple were impressed with their sense of humour, some people complained about not able to see a zebra crossing on the roads as cars are parked on them.
There are a few lines you should not cross and a few that help you cross- both if followed, keep you safe #RoadSafety pic.twitter.com/psgPAtDO5i

— Mumbai Police (@MumbaiPolice) July 21, 2018
Here are all the reactions Tweeple had on Mumbai Police's hilarious tweet-
Will love to use zebra but first teach drivers to follow traffic rules sir
Unless they give us path to walk how we will use Zebra ra crossing!!!! pic.twitter.com/KVNDZplc9U

— Rahul Tadvi (@princejr5) July 21, 2018
This is a good tweet. Mumbai suburbs hardly have zebra crossings though

— Mayank R (@mayank_r1) July 21, 2018
Sir, hardly you get to see the lines and if u see any they are hardly visible for few days. Anyways nice thought though.

— RAJESH ASHAR (@rajeshashar) July 21, 2018
Only problem is that the vehicles are already parked on the Zebra crossing. So commuters have no option of using the Zebra crossing.

— Swapnil (@swapnilk27) July 21, 2018
Sad to say but no vehicle drivers follow this...I go to Nanavati hospital for Radiation and sometimes have to stand for long time to cross the road...inspite of zebra crossing being there bang in front of hospital gate.

— Bairagi🇮🇳 (@mumbai_bihari) July 21, 2018
Very creative.. But most Zebra crossings are wiped out across the city. How about getting them and white lines repainted everywhere? @MumbaiPolice @CPMumbaiPolice @RidlrMUM @RoadsOfMumbai

— Deepankar Sadekar (@Dippy_S) July 21, 2018
Gosh you guys are insanely creative! Respect. 🙏

— Ram (@RantsOfAnIguana) July 21, 2018
If we find zebra crossing on the road, we surely do it.

— Gopal Kishan (@gopalsoni1112) July 21, 2018
Zebra crossing is endangered species in mumbai

— Santosh Kawale (@SantoshnKawale) July 21, 2018
Haha... The roads I cross everyday have no zebra.... What should I do?... Stop crossing the road?

— Adsharma (@mycancerbrain) July 21, 2018
At CST Bus Station pic.twitter.com/8n5qrrrZqI

— LALIT KISHOR (@LALITKI16835490) July 21, 2018
Forget Mumbai Police Twitter Handle, check out Norfolk Police's lip sync battle video on Uptown Funk
Mumbai Police assures help in heavy rain with their hilarious take on F.R.I.E.N.D.S' theme song. Look how Twitter reacts
Mumbai police gives a twist to Janhvi Kapoor's Dhadak dialogue and Twitterati can't stop laughing
Mumbai Police cracks up Twitterati as they join Race 3's 'Our Business' meme fest