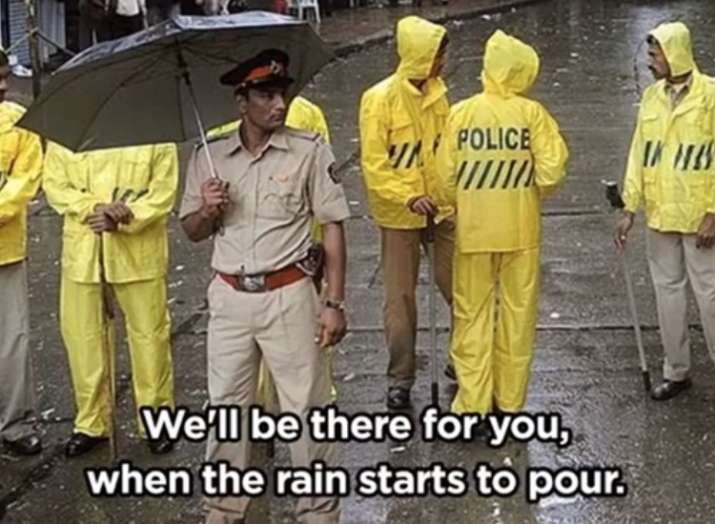 Who isn't a fan of American television sitcom FRIENDS? And who isn't following the sassiest cats in town Mumbai Police's twitter handle? But what would happen if the two come together? Definitely, a hilarious post with a social message. Well, Mumbai Police did it again. After tickling our funny bones with their funny Twitter posts on road safety and cybercrime, Mumbai Police has ensured their help and support in the heavy Mumbai rains to the citizens with a witty and hilarious take on F.R.I.E.N.D.S' theme song.
Right here. For you Mumbai. Always. #MumbaiFirst pic.twitter.com/PhnpDc6mRJ

— Mumbai Police (@MumbaiPolice) July 11, 2018
Assuring that they will be present for you when you are stuck in heavy rains, Mumbai Police Twitter shared a GIF template that read, "We'll be there for you, when the rain starts to pour. We'll be there for you, like we have been there before." Their post got the internet talking and they are all praise and smile on the quirky post.
(Also read: 10 Times Mumbai Police proved they are the 'coolest cats')
Look how Twitterati reacted at the creative way of the Mumbai Police to ensure that they will be there for you-
Excellent job and kudos to Mumbai Police. Proud of you.

— Knagesh (@KnageshHPCL) July 11, 2018
Proud to have a dedicated force which is committed towards the well-being of its citizens.

— Hardik Shah (@profhardik) July 11, 2018
whatever the climate whatever the situation Mumbai Police is always there to help.
Thank You.

— Khan bhai Mumbaiwala (@riyazkhan370) July 11, 2018
Great Job Done in Heavy Rain and water logging. We are really proud of you all.

— AVIK GHOSH MAJUMDAR (@GhoshMajumdar) July 11, 2018
Take a bow Mumbai Police for giving out the best while serving mumbaikars in difficult circumstances.. It doesn't surprise me anymore when I get to see news on Mumbai rains. I wonder how mumbaikars can elect such people to BMC despite all the suffering they go through every year

— Manjul Koustuv Samal (@ManjulKSamal) July 11, 2018
That is why BMC never works during rains because they know POLICE is there. right here for mumbai and always. Great job 👍🏻

— Gaurav Arora (@_Gaurav_Arora) July 11, 2018
No doubts your the beacon in the darkest hours ..see a lot of selfless Mumbai police in rains managing the traffic hatsoff to Mumbai police ...

— manan doshi (@manandosh) July 11, 2018
Mumbai Police has definitely earned truckloads of respect from the netizens for their work and dedication!