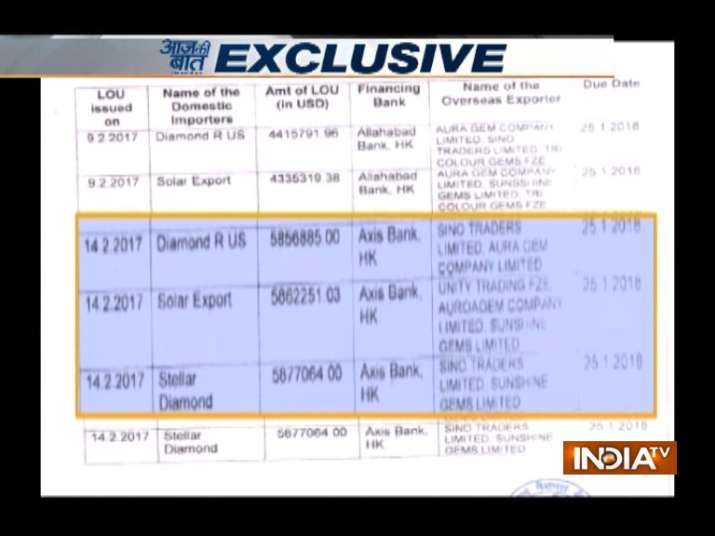 India TV has gained exclusive access to the documents which revealed the biggest fraud of India's banking sector. The eight Letters of Undertaking (LoUs), accessed by India TV, reveal how Nirav Modi and his associates orchestrated a scam to syphon off Rs 11,400 crores from Punjab National Bank (PNB). 
The fake LoUs, issued between February 9 to 14 last year, were used by Nirav Modi group's employees to borrow Rs 280 crores from Allahabad Bank and Axis Bank in Hong Kong. 
The money was wired to the accounts of Nirav Modi's three companies - Diamond R Us, Solar Export and Stellar Diamond. 
However, the same LoUs also helped unravel the whole scam. 
The LoUs issued on February 9, 10 and 14 have the due date of January 25, 2018. The invalidity of the LoUs can be understood with just a closer look at the document. Then PNB deputy manager Gokulnath Shetty, who is one of the main accused in the case, reportedly created LoUs with a time limit of one year. 
Also read | PNB-Nirav Modi fraud case: ED raids over 40 locations across India; CVC meets senior bank, Finance Ministry officials
Normally, a letter of undertaking allows for a three to six months of borrowing period, that is, the client is expected to return the banker's credit within 90 to 180 days. However, in this case, Shetty issued LoUs with a time limit of one year. 
Shetty was due to retire last year, thus, he might have created LoUs with a longer deadline to help his co-conspirators. 
Further investigation has revealed that Nirav Modi even had access to three SWIFT passwords of PNB. Using the SWIFT system, Gokulnath first transferred smaller amounts and then proceeded to issue LoUs for larger amounts, without updating the banking information. 
When the term for issued LoUs expired on January 25, Allahabad Bank and Axis Bank contacted PNB for the outstanding amount. The Delhi-based bank was caught unaware of the LoUs and subsequent overdrafts, as there was no record of these transactions.  
An internal enquiry revealed a scam worth Rs 280 crores. The bank registered an FIR against the Nirav Modi group. However, later the amount of scam was found to be closer to Rs 11,400 crores.
Also read | Bank official illegally accessed Level-5 SWIFT password, shared it with Nirav Modi's firm
Details of transactions on the basis of 8 LoUs issued between Feb 9 and 14, 2017: 
On February 9, Allahabad Bank transferred Rs 28.50 crores in Nirav Modi's company Diamond R Us. 
On the same day, Rs 28 crores were transferred to Modi's another company Solar Export by Allahabad Bank. 
Next day on February 10, PNB issued three fresh LoUs, which were used to get Rs 38.36 crores, RS 37.72 crores and Rs 39.33 crores in the three Nirav Modi group companies. The entire amount was financed by Allahabad Bank. 
Four days later, Gokulnath Shetty gave out three fresh LoUs for Axis Bank branch in Hong Kong. On the basis of letters, the bank transferred Rs 37.81 crores, Rs 37.84 crores and Rs 37.94 crores. 
The transaction, within these three days, amount to Rs 285.54 crores. 
The scam has been afoot since 2011. In the span of six years, between 2011 and March 2017, over 150 LoUs of around Rs 6,000 crore were issued. After April 2017, 143 LoUs worth Rs 3,500 crore have been issued.
Watch full report here: