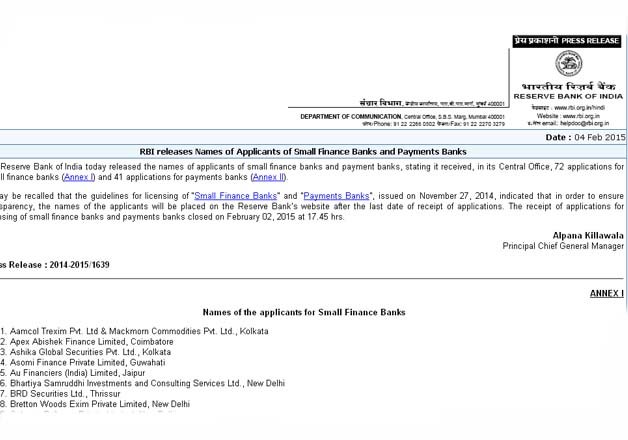 New Delhi: The Reserve Bank of India has released the names of applicants of small finance banks and payment banks. The RBI received 72 applications for small finance banks and 41 applications for payments banks.
The full list released by the RBI shows that top businessmen such as Dilip Shanghvi of Sun Pharma, Kishore Biyani of Future Group and M G George Muthoot of Muthoot Finance have applied for a payments bank licence in their individual capacity.
The central bank also announced the constitution of two external advisory committees to screen the applications. A panel headed by former RBI deputy governor Usha Thorat will look into small finance banks while another one headed by Nachiket Mor, director central board in RBI, will look into payments bank applications. Incidentally, the concept of payments banks was proposed by Mor in his report on financial inclusion. Other names include NRI businessman M A Yusuff Ali's Lulu Group and microfinance company Ujjivan Financial Services.
Names of the applicants for Small Finance Banks
IIFL Holdings Limited, Thane
Aamcol Trexim Pvt. Ltd & Mackmorn Commodities Pvt. Ltd., Kolkata
Apex Abishek Finance Limited, Coimbatore
Ashika Global Securities Pvt. Ltd., Kolkata
Asomi Finance Private Limited, Guwahati
Au Financiers (India) Limited, Jaipur
Bhartiya Samruddhi Investments and Consulting Services Ltd., New Delhi
BRD Securities Ltd., Thrissur
Bretton Woods Exim Private Limited, New Delhi
Calance Software Private Limited, New Delhi
Capital Local Area Bank Ltd., Jalandhar
Capital Trust Limited, New Delhi
Chaitanya India Fin Credit Private Limited, Bengaluru
Coastal Local Area Bank Ltd., Vijayawada
Dewan Housing Finance Corporation Limited, Mumbai
Disha Microfin Private Limited, Ahmedabad
Dr. K. Cherian Varghese, Kochi
Dr. Shubhro Sen, New Delhi
Electronica Finance Limited, Pune
Elite Green Private Limited, Ahmedabad
Equitas Holding P Ltd., Chennai
ESAF Microfinance and Investments Private Limited, Chennai
Grama Vidiyal Micro Finance Limited, Tiruchirapalli
Home First Finance Company India Pvt. Ltd., Mumbai
Idhayam – G Finance and Investment Services Limited, Virudhunagar
Indigo Fincap Private Limited, Nawanshahar
IntelleCash Microfinance Network Company Private Limited, New Delhi
Inventure Finance Private Limited, Mumbai
Ishan Developers & Infrastructure Ltd., Chandigarh
Jagaran Microfin Private Limited, Kolkata
Jainco Projects (India) Limited, Kolkata
Janalakshmi Financial Services Private Limited, Bengaluru
Kerala Permanent Benefit Fund Ltd., Aluva
Kosamattam Finance Limited, Kottayam
Kotalipara Development Society, 24 Parganas North
Light Microfinance Private Ltd., New Delhi
Lulu Forex Private Ltd., Kochi
Mahanadhi Finance Limited, Erode
Mangal Keshav Capital Limited, Mumbai
Microsec Resources Private Limited, Kolkata
Smt. Rajni Aneja, New Delhi
Pareka Investment Private Limited, Kolkata
Professional Management &Advisory Services (P) Ltd., Delhi
Proficient Leasing & Finance Ltd., Allahabad
Repco Micro Finance Ltd., Chennai
RGVN (North East) Microfinance Limited, Guwahati
S. E. Investments Limited, Agra
Sahara Utsarga Welfare Society, 24 Parganas North
Saija Finance Private Limited, New Delhi
Satin Creditcare Network Limited, New Delhi
Ajay Singh Bimbhet & others, Mumbai
Ajit Kumar Sharan, Mumbai
Collin R Timms & others, Mumbai
Kiran Dhondopant Thakur & others, Belgaum
M. R. Seetharam, Bengaluru
Manish Khera, Mumbai
Nijay Kumar Gupta, Mumbai
V.Balakrishnan & others, Bengaluru
Vinod Jain, Gurgaon
SKS Microfinance Limited, Mumbai
Sonata Finance Pvt. Ltd., Lucknow
Sri Jayalakshmi Automotives Private Limited, Hyderabad
Sunmarg Welfare Society, 24 Parganas South
Suryoday Micro Finance Private Limited, Navi Mumbai
Tri-Deep Leasing And Finance Limited, New Delhi
UAE Exchange & Financial Services Ltd., Bengaluru
Ujjivan Financial Services Private Limited, Bengaluru
Utkarsh Micro Finance Private Limited, Varanasi
VAYA Finserv Private Limited, Hyderabad
Village Financial Services Private Limited, Kolkata
Vinayak Local Area Bank Limited, Sikar
Vsoft Technologies Private Limited, Hyderabad
Names of the applicants for Payments Banks
A Little World Private Limited, Belapur
Aditya Birla Nuvo Limited, Mumbai
Airtel M Commerce Services Limited, New Delhi
Calibre Financial Services Limited, Chennai
Cholamandalam Distribution Services Limited, Chennai
Citrus Payment Solutions Private Limited, Mumbai
Concept Technosoft Ventures Limited, New Delhi
Department of Posts, New Delhi
Eko India Financial Service Private Limited, New Delhi
FINO PayTech Limited, Navi Mumbai
Fx Mart Private Limited, Zirakpur, Mohali
GI Technology Private Limited, Chennai
Instant Global Money Transfer Private Limited, Hoshiarpur
Itz Cash Card Limited, Mumbai
Kalpataru Corporation, Mumbai
KKM Management Centre Private Limited, New Delhi
My Mobile Payments Limited, Mumbai
National Securities Depository Limited, Mumbai
Novopay Solutions Private Limited, Bengaluru
NSE Strategic Investment Corporation Limited, Mumbai
One MobiKwik Systems Private Limited, Gurgaon
Oxigen Services (India) Private Limited, New Delhi
Pay Point India Network Private Limited, Mumbai
Reliance Industries Limited, Mumbai
Resource Square Solutions Private Limited, Chennai
Dilip Shantilal Shanghvi, Mumbai
Kishore Laxminarayan Biyani, Mumbai
M.G. George Muthoot & others, Kochi
Nijay Kumar Gupta, Mumbai
Rajib Saha, Gurgaon
Renuka Mata MultiState Co-operative Urban Credit Society Ltd., Ahmednagar
Vijay Shekhar Sharma, Noida
Smart Payment Solutions Pvt. Ltd., New Delhi
Suvidhaa Infoserve Private Limited, Mumbai
Tech Mahindra Limited, Mumbai
V. K. Fiscal Services Pvt. Ltd., New Delhi
Vakrangee Limited, Mumbai
Videocon d2h Limited, Mumbai
Vodafone m-pesa Limited, Mumbai
Weizmann Forex Limited, Mumbai
YouFirst Money Express Private Limited, Mumbai