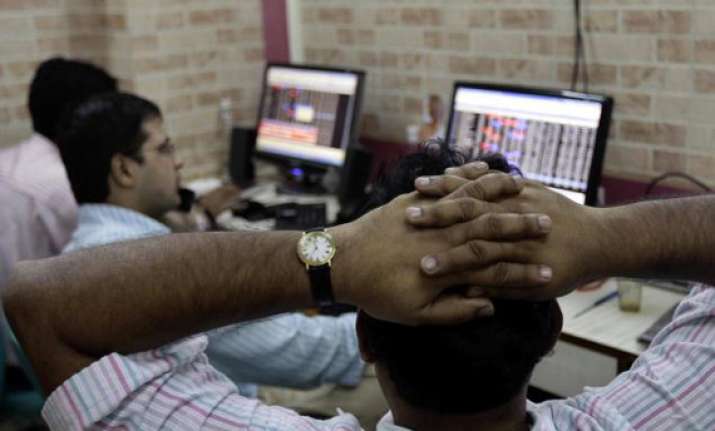 Mumbai, Mar 2: In a see-saw trade, the BSE benchmark index Sensex today closed nearly 53 points higher at 17,636.80 points, with ICICI Bank and Larsen &Toubro leading the gains.

Profit booking at high levels marked the day's trade amid firm Asian cues, brokers said.

A chaotic auction of ONGC shares also weighed on investors who are concerned over government's ability to meet its disinvestment target.

The 30-share barometer resumed better and moved erratically in a range of 17,731.88 points to 17,504.38 points before concluding at 17,636.80, exhibiting a net rise of 52.83 points or 0.30 per cent.

The 50-issue Nifty of the National Stock Exchange also rose by 19.60 points or 0.37 per cent to 5,359.35 points.

Some of the banking, pharma and capital goods counters attracted good buying support while realty stocks, led by DLF, suffered the most for the second day in a row.

ICICI Bank, which shot up by 2.08 per cent, was the main contributer to the Sensex rise. Engineering giant L&T rose by 1.66 per cent on reports that the company has bagged orders worth over Rs 1,300 crore across various business segments in February 2012.

"Markets are likely to be highly volatile in March as important data and events are lined up during this month. Starting from March 5-6, when the UP poll results will be declared, important events like Monetary policy review (March 15) and Union budget (March 16) will lead to cautious to jittery sentiments on the bourses," Shanu Goel Research Analyst Bonanza Portfolio said.

Asian shares rose in the early trade led by gains in financial stocks. Key benchmark indices in China, Hong Kong, Taiwan, Japan, Singapore, Hong Kong and Indonesia rose by between 0.18 per cent to 0.93 per cent.

European markets were trading mixed with downward bias. CAC was up by 0.15 per cent while DAX and FTSE were quoted lower at 0.17 per cent and 0.14 per cent respectively.

From the 30-share Sensex pack 16 scrips ended with gains while 14 scrips finished with losses.

Realty major DLF fell 5.03 per cent, after having lost lost 5 per cent in the previous session amid reports of an analyst report raising concerns over its financial health.

ONGC fell by 2.22 per cent, a day after the government raised nearly Rs 12,733 crore through 5 per cent stake auction in the oil major.

Meanwhile, Finance Minister Pranab Mukherjee said the government has decided to study the auction process before going ahead with stake sale of other companies.

Hindalco fell by 1.86 per cent, Bajaj Auto 1.56 per cent, Tata Power 1.34 per cent and BHEL by 0.82 per cent.

Among gainers were Sun Pharma (3.11 per cent), Jindal Steel (2.15 per cent), NTPC (1.33 per cent), Bharti Airtel (1.21 per cent), State Bank Of India (1.17 per cent), Tata Steel (0.82 per cent) and HDFC Bank (0.81 per cent).

Among sectoral indices, the Bankex rose by 1.40 per cent and BSE-HealthCare by 0.83 per cent while BSE-Realty dropped by 2.39 per cent.

The market breadth continued to remain negative as 1,485 stocks ended with losses while 1,411 stocks finished with gains. The total turnover firmed up to Rs 3,137.28 crore from Rs 2,848.45 crore yesterday.

Both the stock exchanges BSE and NSE are holding a special trading session tomorrow, March 3, 2012, as the BSE is testing its Disaster Recover Site (DR). Trading will begin at 1115 hrs and conclude at 1245hrs on that day.