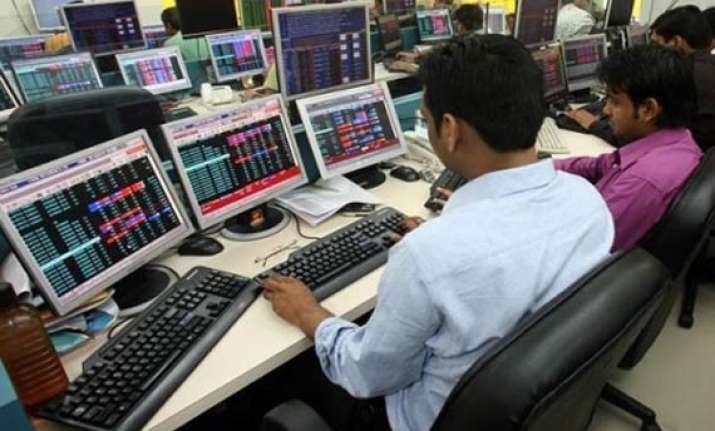 Mumbai, Apr 9:
The BSE Sensex today fell nearly 264 points to one-week low of 17,222.14 on widespread selling by funds, especially in banking and refinery stocks, amid weak markets in Asia on investor concerns over slow growth in US jobs and global economic recovery.
Besides, investors have been cautious ahead of fourth quarter corporate earning results, industrial growth data and the Reserve Bank's annual monetary policy next week.
Overall, 12 of the 13 sectoral indices closed with losses of up to 3.44 per cent. Only BSE-Healthcare closed with moderate gains.
Besides, 25 of the 30 Sensex stocks closed in the red, with L&T, ICICI Bank, SBI, ITC, HDFC, Infosys, Tata Steel, RIL, TCS, BHEL, Hindalco and ONGC together erasing 200 points from the index.
Sensex resumed lower and remained in the red zone throughout the day. It finally closed at 17,222.14, a drop of 263.88 points or 1.51 per cent. In the previous trading last Wednesday, it had dipped 111.40 points or 0.63 per cent.
The NSE 50-issue index Nifty plunged 88.50 points or 1.66 per cent to 5,234.40.
Brokers said metal stocks fell heavily amid fears of a slowdown in the world economy in view of weak jobs growth data in the US. A weak trend in the Asian region fuelled selling trend. European markets were closed for 'Easter Monday'.
"It was not a very encouraging start to a week that will signal the start of the earning season with bellwether Infosys declaring Q4 numbers on Friday and RBI policy meet on April 17," said Sharmila Joshi Head Equity Fairwealth Securities.
"We will also deal with inflation numbers and monthly IIP data before the week is out. It was perhaps this nervousness that got reflected in the stocks and the interest rate sensitives took it on the chin and SBI and ICICI Bank ended lower," she added.
FIIs also seemed to have slowed down their purchases as they picked up shares worth Rs 45.81 crore on Wednesday.
Of the Sensex stocks, Hindalco dropped 5.18 per cent, followed by Sterlite (4.34 pc), Bhel (3.71 pc), L&T (3.50 pc), Jindal Steel (3.46 pc), Tata Steel (3.21 pc), SBI (2.91 pc), NTPC (2.62 pc), Maruti Suzuki (2.59 pc), ICICI Bank (2.29 pc), Gail India (2.21 pc), M&M (2.14 pc), ONGC (1.81 pc), HDFC (1.65 pc), Coal India (1.46 pc), ITC (1.36 pc), TCS (1.34 pc), Hero Motocorp (1.26 pc), Wipro (1.15 pc) and Sun Pharma(1 pc).
However, Cipla gained 1.34 pc and Hul 1.06 pc.
Among the sectoral indices, the BSE-Metal fell 3.44 pc, followed Capital Goods - 3.16 pc, Power - 2.49 pc, PSU - 2.05 pc, Bankex - 1.81 pc, Consumer Durables - 1.56 pc, Oil&Gas - 1.49 pc, Auto - 1.13 pc, Teck - 1.13 pc and IT - 1.12 pc.
The total market breadth was negative as 1,640 stocks ended in the red, while 1,179 finished in the green.
The total turnover was relatively low at Rs 1,851.14 from last Wednesday's level of Rs 2,126.50 crore.