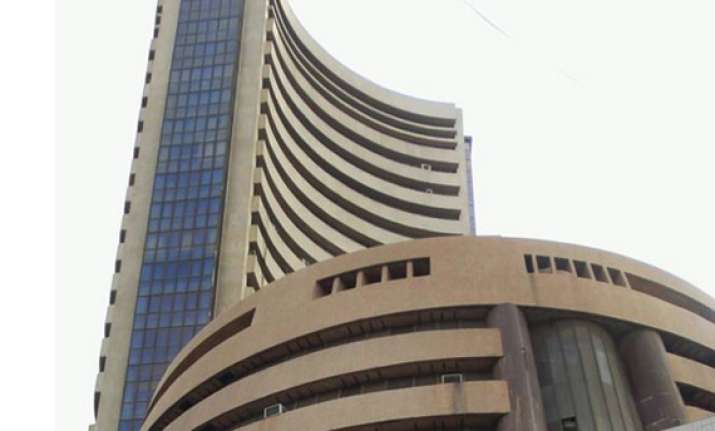 New Delhi, June 20: The US Fed's monetary stimulus exit plan spooked markets today with S&P BSE Sensex plunging over 526 points, its biggest single-day fall in nearly two years, on massive offloading of shares by investors across the spectrum, amid the rupee hitting a lifetime low of 59.93.
After Fed Chairman Ben Bernanke last night said central bank will likely slow its bond-buying programme this year and end it in 2014, global markets went into a tizzy as $85 billion-a-month scheme offered easy money, said traders.
The Sensex opened with a sharp downside gap and continued to decline further amid rupee falling like a stone to hit record low of 59.93 against the dollar. Sensex kept falling even as finance ministry officials tried to sooth frayed nerves. It ended down 526.41 points, or 2.74 per cent, at over 2-month low of 18,719.29. The 526-point drop is the biggest since 704-point crash in September 2011.
28 out of 30 Sensex scrips closed down. With overall 1,650 stocks ending as losers, investor wealth worth Rs 1.57 lakh crore vanished in today's session.
"It was absolute bedlam in financial markets triggered by comments from the Federal Reserve overnight...there was nothing new in Fed statement but huge build up of leveraged positions led to the cascading fall across asset classes," said Amar Ambani, Head of Research, India Infoline.
Sustained outflows, weakness in European markets and tepid Chinese manufacturing activity also affected markets.
Market saw across-the-board sell-off as all 13 indices closed with losses of up to 5.1 per cent. Concerns over withdrawal of funds by FIIs and consequent impact on rupee as well as financing of CAD, hit sentiments further, said Dipen Shah, Head-PCG Research, Kotak Securities.
The National Stock Exchange index Nifty dipped below 5,700 level by losing 166.35, or 2.86 per cent to close at 5,655.90. Also, SX40, the flagship index of MCX-SX, closed 308.22 points, or 2.70 per cent, down at 11,118.85.
Globally, benchmark indices in China, Hong Kong, Japan, Singapore, Taiwan and South Korea fell by 1.35-2.88 per cent. Euorpean markets were also trading lower in early trade as indices in France, Germany and the UK fell by 2 per cent.
Meanwhile, the Indian rupee slumped to another record low of 59.93 against the dollar on Thursday.
The partially convertible rupee opened sharply lower and hit the record low of 59.93 in the morning session at the inter-bank foreign exchange market in Mumbai, surpassing the previous record of 58.98 hit June 11.
The rupee had closed at 58.71 on Wednesday.
The Indian currency dropped sharply a day after the US Federal Reserve chairman Ben Bernanke signalled that the Fed would start winding down its stimulus spending later this year.
The Fed move is likely to lead to appreciation of the US currency against its major rivals.
The Indian currency recovered in the afternoon after the government said it was ready to take steps to curb volatility.
The value of one dollar was quoted at 59.78 at 1.15 p.m. Indian Standard Time (IST). The rupee touched a high of 59.50 and a low of 59.93 in the intra-day.
Finance Minister P. Chidambaram met top officials to discuss the volatility.
After the meeting, the chief economic advisor in the finance ministry, Raghuram Rajan, said the government was not "short of options" and it would take necessary action to ensure stability in the currency market.
"We are not short of actions or instruments. As and when need arises, we will be alert to development. We do not like volatility and will take actions when necessary," Rajan told reporters.
However, Rajan said there was no need to be "overtly pessimistic", as the Indian currency was not in shambles.
Planning Commission Deputy Chairman Montek Singh Ahluwalia said the central bank would take action when needed.
"We are allowing the exchange rate to move with the market. RBI steps in when it thinks necessary," Ahluwalia said.
Ahluwalia said the Indian rupee has weakened more than the other Asian peers against the dollar largely due to the high current account deficit.
India's currency account deficit touched a record high of 6.7 percent in the quarter ended Dec 31, 2012. High trade deficit is likely to put further pressure on the current account balance.
According to data released by the commerce ministry early this week, India's trade deficit widened to seven month high of $20.14 billion in May due to sluggish exports and higher imports, notably of gold.