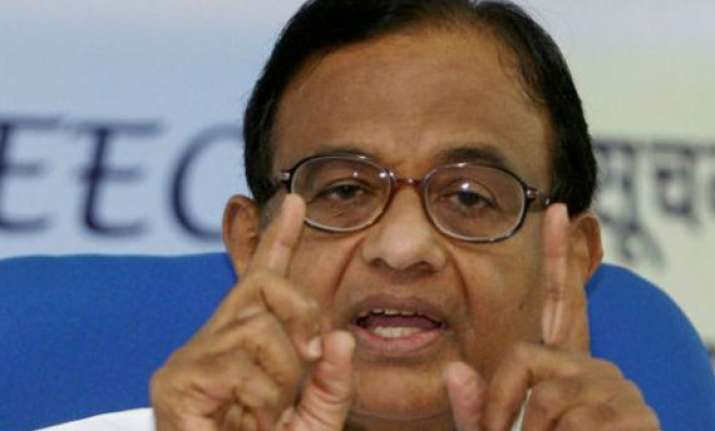 New Delhi: The government on Monday said the fiscal deficit for the current financial year will be contained at 4.6 per cent of GDP.
"Let me begin with the good news. Fiscal deficit for 2013-14 will be contained at 4.6 per cent of GDP, well below the red line that I had drawn last year," Finance Minister P. Chidambaram said in the interim budget presented in Parliament.
The fiscal deficit, which is the gap between expenditure and revenue, was 4.9 per cent of GDP in the previous financial year.
After talking over as Finance Minister in August 2012, Mr. Chidambaram had drawn up a financial consolidation road map to lower the fiscal deficit to 4.8 per cent of GDP in 2013-14, 4.2 per cent in 2014-15 and 3.6 per cent in 2015-16.
He said the government's objectives included fiscal consolidation, reviving the growth cycle and enhancing manufacturing.
The Minister had on several occasions said he had drawn a red line for the fiscal deficit and it would not be breached.
As per current indications, the fiscal deficit has come down mainly on account of expenditure compression and higher realisation from the 2G spectrum auction.
The Finance Minister also said GDP growth has improved and will be 4.9 per cent for the current financial year.
Economic growth had slowed to a decade's low of 4.5 per cent in 2012-13.
India's current account deficit (CAD) will be contained at $45 billion this financial year, well below the record high level of 2012-13, Mr. Chidambaram said.
"CAD that threatened to exceed last year's $88 billion will be contained at $45 billion," he said in the interim budget presented in Parliament.
The Finance Minister also said, "I am happy to inform the House that we expect to add about $15 billion to the foreign exchange reserves by the end of the financial year."
In the first half (April-September) of 2013-14, CAD narrowed to $26.9 billion (3.1 per cent of GDP) from $37.9 billion (4.5 per cent of GDP) in the first half of 2012-13.
Both the government and the Reserve Bank of India had taken steps to bring down gold imports, one of the major causes for the widening of the CAD in 2012-13.
The government had increased customs duty on gold thrice in 2013 to 10 per cent and the RBI had imposed a series of curbs on inward shipments of the yellow metal.
Chidambaram also said India's exports are likely to touch $326 billion in 2013-14. Exports were about $304.5 billion in 2012-13.
The aim, he said, "must be robust growth in exports and imports, both".
Agriculture credit is likely to exceed the target of Rs. 7,00,000 crore while farm exports are expected to increase to over $45 billion in the current fiscal, Mr. Chidambaram said.
"We are proud of stellar performance of agriculture.
...Agriculture credit is likely to touch Rs. 7,35,000 crore, exceeding the target of Rs. 7,00,000 crore," he said while presenting the interim Budget for 2014-15 fiscal.
Mr. Chidambaram also stated that agricultural exports are likely to cross $45 billion this fiscal, as against $41 billion in 2012-13.
Highlighting the improved growth of agriculture sector during the UPA tenure, the Minister said, "Agriculture GDP growth increased to 3.1 per cent in five years of UPA-I, further to 4 per cent in the first four years of UPA-2. In the current year, agri growth is estimated at 4.6 per cent."
Mr. Chidambaram attributed the likely increase in farm growth this fiscal to estimated bumper production in various crops.
"Foodgrain production in 2012-13 was 255 million tonnes. The estimate for the current year is 263 million tonnes. The estimate of production of sugarcane, cotton, pulses, oilseeds point to a new record," he said.
The likely record foodgrain production is on the back of a good monsoon this year.
The government also said the country's installed power generation capacity has more than doubled to 2,34,600 MW in the past 10 years.
"India's power generation capacity 10 years ago (2004) was 1,12,700 MW, it has now risen to 2,34,600 MW," Mr. Chidambaram said.
He said over 29,000 MW of power generation capacity has been added in the current financial year alone.
Last week, Power Secretary Pradeep Kumar Sinha said that the government is confident of adding 1,18,000 MW capacity by 2017.
The target includes the shortfall in addition from the previous Plan period, the Planning Commission's current target of over 88,000 MW and nuclear and renewable power capacities.
He said the ministry was unable to achieve the previous plan period (2007-12) target of 78,577 MW due to fuel scarcity issues.
Rejecting arguments of "policy paralysis", Mr. Chidambaram said the economy is more stable than what it was two years ago following several steps taken by the government and that the growth will be higher in the second half of the fiscal.
"Thanks to the numerous measures, I was confident that the decline will be arrested and growth cycles will turn in the second quarter. I believe, I have been vidicated...second quarter at 4.8 per cent and growth for whole year has been estimated at 4.9 per cent.
"This means that growth in Q3 and Q4 of 2013-14 will be at least 5.2 per cent," he said in the interim budget.
He said the UPA government's record on economic growth front is "unparalleled".
"Madam speaker, I reject the argument of policy paralysis. Just as there are business cycles, there is a cycle around the trend growth rate of an economy.
"I can confidently assert that the economy is more stable today than what it was two years ago," Mr. Chidambaram said.
India's economic growth slowed to a decade low of 4.5 per cent in 2012-13 due to global as well as domestic factors, like high interest rate.
The government took several steps, including setting up of Cabinet Committee on Investment (CCI) under chairmanship of Prime Minister Manmohan Singh to fast track big ticket projects.
While industrial growth contracted for three consecutive months through December, good monsoon rains in 2013 were a good news for the agricultural sector, which has about 15 per cent share in the GDP.
Mr. Chidambaram said both the government and the RBI have acted in tandem to bring down price rise, even as food inflation at 8.8 per cent still remains a worry.
"Both the government and RBI have acted in tandem (to bring down inflation). While our efforts have not been in vain, there is still some distance to go," he said in the Interim Budget for 2014-15.
Mr. Chidambaram, however, said: "Food inflation still remains a worry although it has declined sharply...."
The wholesale price based inflation has fallen to a 8 month low of 5.05 per cent in January, while the retail inflation was at a two-year low of 8.79 per cent.
Inflation in food articles category in January stood at 8.8 per cent. It was 13.68 per cent in the preceding month.
The central bank factors both retail and wholesale price based inflation data in its monetary policy.
The Reserve Bank had increased a key interest rate by 0.25 per cent to 8 per cent in its Third Quarter Review of Monetary Policy on January 28.
The government said the Indian currency has fared better than those of other emerging economies and the exchange rate has stabilised.
Risks to capital flows were accentuated due to volatile global conditions and the U.S. Federal Reserve's announcement last May of tapering its fiscal stimulus had severely hit the rupee value.
"Government, RBI and SEBI took a number of measures to facilitate capital inflows and stabilise the Forex market.
"Among emerging economy currencies, rupee was affected the least when the actual reduction took place in December 2013 and January 2014," Mr. Chidambaram said in parliament.
"I can confidently assert that the economy is more stable today than what it was two years ago. The fiscal deficit is declining, the CAD (current account deficit) is being constrained, inflation has moderated, the quarterly growth rate is on the rise and the exchange rate is stable, exports have increased and hundreds of projects have been unblocked," he said.
The government and the Reserve Bank of India had taken several steps to curb gold imports, which had hurt the CAD and led to the battering of the rupee.
The RBI had opened special swaps windows to attract deposits from non-resident Indians and allow oil-marketing companies to source dollars.
On its part, the capital market regulator had taken steps to check speculation in the currency market.
The rupee, which had touched a lifetime low of 68.82 against the U.S. dollar in August 2013, had recovered significantly and opened at 61.96 a dollar on Monday.
The Cabinet Committee on Investment headed by Prime Minister Manmohan Singh, has cleared 296 mega projects.
Mr. Chidambaram on Monday allocated an additional Rs. 1,000 crore to the Nirbhaya Fund for the safety and empowerment of women.
"In order to make it clear that the (Nirbhaya) fund will be a prominent fund, I intend to declare the grant of Rs. 1,000 crore as non-lapsable and in order to support more proposals, I propose to contribute to the fund another Rs. 1,000 crore next year," Mr. Chidambaram said.
In last year's Budget, Mr. Chidambaram had announced the Nirbhaya Fund with a corpus of Rs. 1,000 crore as a tribute to the gangrape victim. Nirbhaya (fearless) was the pseudonym given to the victim.
"To ensure the dignity and safety of women, I promised the Nirbhaya Fund and put Rs. 1,000 crore to the fund," Mr. Chidambaram said.
The Cabinet has already cleared two proposals that will receive support from the fund.
In January, the Cabinet Committee on Economic Affairs approved a Rs. 1,405-crore project to track and monitor public transport and provide alarm buttons for alerting authorities.
The project involves setting up closed-circuit television (CCTVs) and GPS in public transport vehicles.
The government set a deadline of February 20, 2014, for public transport vehicles running in major cities with a population of over 10 lakh to install GPS devices.
The road network in the country has witnessed a whopping over seven-fold increase at 3.89 lakh kilometres in the UPA-I and UPA-II regime, Mr. Chidambaram said.
"In the year 2004, the country's highway network was 51,511 km which has now reached 3,89,578 km today," he said.
"We have added highways and rural roads under the PMGSY (Pradhan Mantri Gram Sadak Yojana),"Mr. Chidambaramsaid.
Pitching for higher allocation for the infrastructure sectors, he said, there should be more funds for defence, railways, national highways and telecom.
The Ministry of Road Transport and Highways had said it expects projects worth over Rs. 1 lakh crore, which have been stuck for long, to start moving soon.
In a bid to spur domestic manufacturing, the government today said the excise duties on mobile handsets will be restructured to six per cent for all categories.
"To encourage domestic production of mobile handsets (which has declined) and reduce the dependence on imports (which have increased), I propose to restructure the excise duties for all categories of mobile handsets," Finance Minister P. Chidambaram said.
"The rates will be six per cent with CENVAT credit or one cent without CENVAT credit," he added.
"I would like to thank Finance Minister for the attention to mobile handset segment. We have to go through the fine print before coming to any conclusion," Indian Cellular Association National President Pankaj Mohindroo said in his reaction.
Electronic component manufacturer association ELCINA said the announcement does not look promising for domestic firms.
"At first glance, I think it is not going to be a disincentive to trading. One per cent credit without CENVAT credit is too less," ELCINA Secretary General Rajoo Goel said.
As part of last year's budget, the government had raised the excise duty to six per cent on handsets priced above Rs. 2,000.
Expressing disappointment over the non-passage of key financial legislations like Insurance Bill, Mr. Chidambaram said there was no merit in blocking their passage.
"I regret to record my disappointment that Insurance Laws Amendment Bill and Securities Laws Amendment Bill have not been passed by Parliament for reasons that have nothing to do with the merits of Bills," he said.
The Insurance Bill that seeks to raise FDI in insurance sector to 49 per cent has been pending in Rajya Sabha since 2008. The Standing Committee, to which it was referred earlier, has already given its report to the Parliament.
With the amendments in Securities Laws Bill, market regulator SEBI would have more powers to crack down on ponzi schemes, seek phone call records to check insider trading and carry out search and seizure operations.
Last year, President Pranab Mukherjee had promulgated an ordinance amending the securities law that would provide more powers to the SEBI.
With regard to legislations in direct and indirect taxation, he said revenues are of paramount importance and he is disappointed over the Goods and Service Tax (GST) not being introduced.
"I am disappointed that we have not yet been able to introduce GST. I leave it to you to answer the question, who blocked the GST when an agreement on the game changing tax reform was around the corner?" he said.
GST, which seeks to subsume various indirect taxes like excise, sales and service tax, was proposed by the Atal Bihari Vajpayee-led NDA government and subsequently supported by Congress-led UPA government.
"We have also got ready a Direct Taxes Code that will serve as for at least the next 20 years. I intend to place it on the website for a public discussion without partisanship or acrimony," he said.
"I appeal to all political parties to resolve to pass the GST laws and DTC in 2014-15," he said.
All 1.55 lakh post offices will starting working using modern technology by next year, Mr. Chidambaram said.
"The IT modernisation project of the Department of Posts with outlay of Rs 4,909 crore will be operational by 2015 in all 1.55 locations," the finance minister said.
The IT modernisation project with this outlay was approved by Cabinet Committee of Economic Affairs in November 2012. It has to be implemented through eight projects which include core banking system technology, IT based management at post offices, business intelligence system to analyse and project new business opportunity.
The project aims at increasing efficiency, quickening transactions and enhancing transparency at all 1.55 lakh post offices in the country.
Under the project all rural post offices are to be provided with 1,30,000 handheld devices which will come with smart card reader for financial transactions, solar panel for charging it, biometric reader for immediate identification and thermal printer for immediate printing of receipt.
The device will enable post offices to deliver services at the door step of the customer.
The postal department has almost computerised about 25,000 of its departmental post offices but rural post offices will be provided handheld devices for digitalising records.
The interim Budget presented by Finance Minister P Chidambaram in Parliament today noted that the Indian capital market, in line with global trends, was affected by the expectation of market participants regarding the tapering of the monthly bond purchase programme of the US Federal Reserve.
However, it added that the investor—friendly measures taken by the government and the Reserve Bank gave a positive fillip to investor sentiment in the Indian market.
"As a result the Indian capital market has emerged as one of the better performing markets in the world in the year 2013, in comparisons to the other emerging markets," it added.
Besides, the Budget noted that Foreign Institutional Investors also reposed confidence in the Indian capital markets with investments of $12.13 billion.
FIIs added $20.10 billion in equities while they pulled out USD 7.97 billion from the debt market, resulting in total net flows of $12.13 billion.
"FIIs have also reposed their confidence in the Indian market manifested in positive net FII investment during the last four months of 2013, reversing the earlier trend of net outflow during the June—August period in the current year," the Budget noted.
India's exports are expected to grow by 6.3 per cent to USD 326 billion during the current fiscal, Finance Minister P Chidambaram said.
"Though 2013—14 began on a pessimistic note, I am happy to inform the House that the year will end with estimated merchandise exports of USD 326 billion, indicating a growth rate of 6.3 per cent," he said in the interim Budget speech in Parliament.
India's merchandise exports was at USD 300.4 billion in 2012—13, a decline of 1.8 per cent over the previous year.
"However, imports are down and this does not augur well for either manufacturing or domestic trade. Our aim must be robust growth in both exports and imports, with trade in balance over a period of time," Chidambaram added.
Further, he said exports have recovered sharply and the recovery must be seen in the context of growth of global trade declining from 6.1 per cent in 2011 to 2.7 per cent in 2013.
Cracking down on alleged wealth stashed by Indians abroad, the government has initiated enquiries in several cases while information has been received in 67 such cases and prosecution for wilful tax evasion has been launched in 17 other cases.
Giving an update on alleged tax evasion through offshore accounts, Finance Minister P Chidambaram said today in his interim budget speech that the government has succeeded through alternative methods and special efforts in obtaining information in 67 cases "despite several hurdles in obtaining from the countries concerned".
He said that action is underway to determine the tax liability as well as imposition of penalty in these 67 cases.
"Prosecutions for wilful tax evasion have been launched in 17 other cases. More enquiries have been initiated into accounts reportedly held by Indian entities in no tax or low tax jurisdictions," he added.
"There has been much debate on illegal offshore—accounts held by Indians. Investigations into such accounts were launched in 2011," Mr. Chidambaram said
"To give relief to the automobile industry, which is registering unprecedented negative growth, I propose to reduce excise duty," Mr. Chidambaram said.
Excise duty for small cars, scooters, motorcycles and commercial vehicles will come down to 8 per cent from 12 per cent earlier.
SUVs will attract excise duty of 24 per cent as against 30 per cent earlier.
Excise duty on large cars will now be 24 per cent compared with 27 per cent earlier, while the duty on mid—sized cars will go down to 20 per cent from 24 per cent previously.
The excise duty cut will be applicable up to June 20, 2014.
"The net market borrowing of the Central Government in 2014—15 is estimated to be Rs 4,57,321 crore," as per the interim Budget 2014—15, presented by Finance Minister P Chidambaram in Parliament.
During 2013—14, the government borrowed Rs 4,68,901.87 crore from the market.