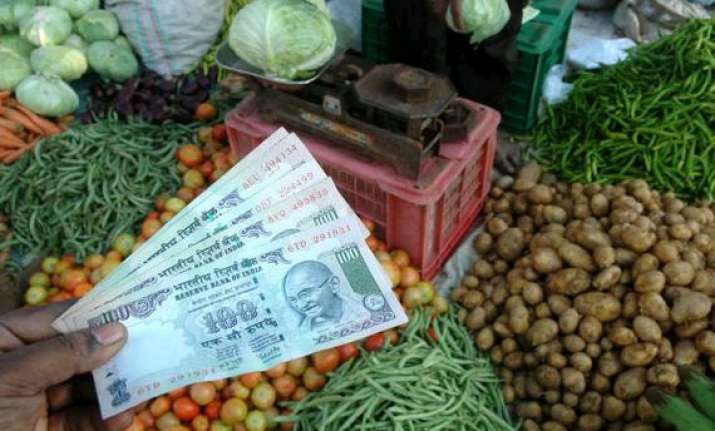 Mumbai: The ease in wholesale price index based inflation in June is "temporary" and is likely to accelerate going ahead due to poor rainfall and higher vegetable prices, India Ratings and Research said today.  The headline inflation dipped to 5.43 per cent in June as against 6.01 per cent in May due to decline in prices of food items and vegetables with the exception of potatoes and onions.
Retail inflation as tracked by the Consumer Price Index (CPI), also fell to a 30-month low of 7.31 per cent in June from 8.28 per cent in May. Its lowest was 7.65 per cent in January 2012.
"We believe that this could be a temporary blip as the delayed monsoons and consequent spurt in vegetable prices point to the likelihood of inflation aggravating in a pattern similar to that of last year," India Ratings and Research said in a note issued here today.
In 2013, inflation had dipped to 4.6 per cent in May and later gradually increased and peaked at 7.5 per cent in November, the India Ratings note said.
Inflation in primary food articles eased to 8.1 per cent in June as against 9.5 per cent last month, mainly due to a decline in vegetable prices, the note said.  However, prices of certain vegetables have soared lately and this would exert pressure on inflation in the coming months, the note said.
"However, the moderation in inflation levels (WPI and CPI) is being viewed with caution, given the risk to food prices due to prevailing weak monsoons," rating agency CARE Ratings said in its report.
"Added pressure on crude oil prices due to geopolitical tensions too could weigh on domestic price levels in coming times," the CARE report said.  Ratings agency CRISIL, however, said it does not expect food inflation to soar considerably due to proactive measures already taken by the government and a strong base effect from last year.
"In the longer-run, Budget announcements to boost agriculture and improve the supply chain will help bring down CPI inflation, but lowering and sustaining it around six per cent, the RBI's target for January 2016 will pose a challenge," CRISIL said.