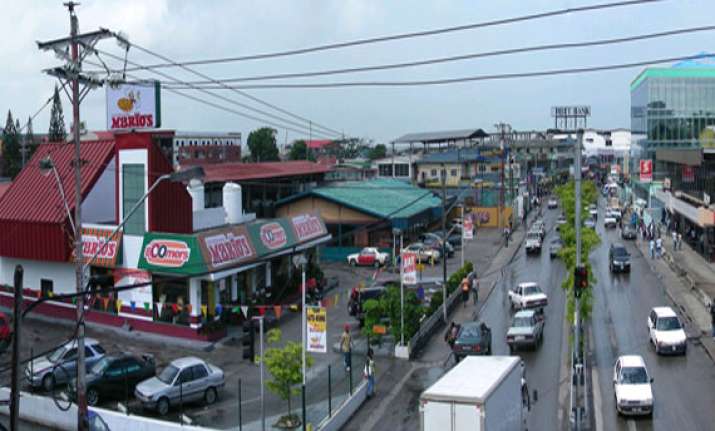 Port-of-Spain/New Delhi: An arson attack is being suspected of being the cause of a major fire Thursday that razed the venue of the upcoming Festival of India expo in Trinidad and Tobago's bourough of Chaguanas.
The fire that engulfed the Divali Nagar site in central Trinidad at 2 a.m. Thursday, led to an estimated loss of around $6,000,000.
Around 50 Indian participants lost all their trade items, included clothing, furniture and jewellery, in the fire, expo organiser Amit Alagh told IANS.
The entire venue was gutted in 15 minutes, even as five fire tenders were sent to the spot.
Also, 150 local workers from Trinidad and Tobago were rendered jobless.
The Festival of India is a well-known trade expo that has been annually organised by the India-Caribbean Company for the past 10 years.
The festival has been licensed by the trade ministry of Trinidad and Tobago.
Alagh claimed that it was a pre-planned attack aimed at causing the maximum damage.
However, he declined to name the attackers as the matter was under investigation.
Alagh, who is married to a Trinidadian, said arson was suspected as remnants of a Molotov cocktail were retrieved from the smoldering ruins by investigators.
"We had taken care of all the security guidelines at the expo but the security around the expo was not up to the mark," he told IANS.
Alagh, an Indian trader based in New Delhi, said they did not get any response from the Indian high commission in the country despite such a huge loss.
According to Alagh, there has been a total estimated loss of Rs.40 crore (around $6.5 million).
"I am penniless, and what can I do, how can I start over?," Alagh told IANS over the phone.
Local fire officials too have concluded that the fire was not accidental.
Police later reached the venue and launched a probe into the incident.
Another participant in the expo, Tilak Raj, said: "I think this has to be jealousy. Why would someone want to commit such an act?"
Sales of Indian wear spiral as the Indian diaspora here celebrates the 169th anniversary of the arrival of Indians from Uttar Pradesh and Bihar states between 1845 and 1917 May 30. They were brought here to work on the sugarcane plantations.
Mayor of Chaguanas, Alderman Gopaul Boodan said that he was deeply worried about the fate of some 150 local workers who were employed now that the entire business operation is gutted. He plans to meet with the Chaguanas Chamber of Commerce to find ways to assist.
Meanwhile, Deokienanan Sharma, president of National Council of India Culture (NCIC) that rented the expo premises to Amit Alagh said he was thankful the main building at Divali Nagar was not affected.
The Indian traders are currently lodged at a nearby camp.
Trinidad and Tobago's East Indian population make up 44 percent of the total population.