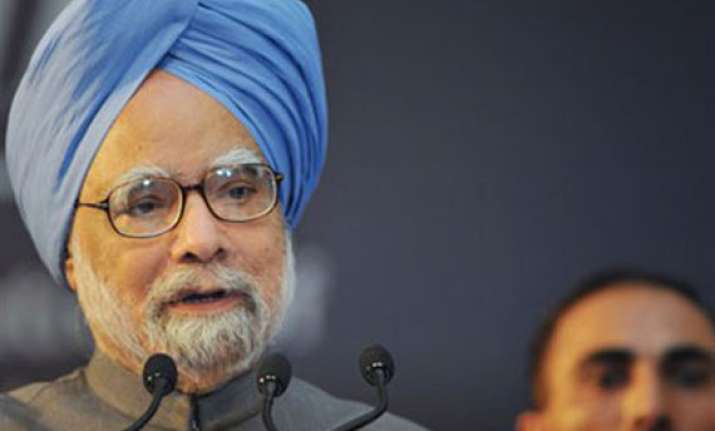 New Delhi, Feb 28: Prime Minister Manmohan Singh Thursday commended Finance Minister P. Chidambaram on his annual budget, saying there were no "winners or losers" and stressing that all Indians, especially the youth, would benefit if the country succeeds in achieving eight percent growth.
"The finance minister has done a commendable job in containing the deficit while simultaneously addressing the growth imperatives," Manmohan Singh said in an interview to state-owned Doordarshan after the budget was presented in the Lok Sabha.
"If the general mood of the country is right, it will affect the bureaucracy and opposition and in this there are no winners or losers. If India succeeds in getting to a growth rate of eight percent, the winner will be the people of India, especially our youth, who need desperately new productive job opportunities," he said.
"India needs to create jobs for the growing labour force to the extent of about 10 million persons every year," the prime minister said. "To do that we need to increase the tempo of our growth... the 12th five-year pan has mentioned a growth rate of eight percent."
Manmohan Singh said this was a growth rate consistent with India's potential.
"We have to get there, although this is a difficult journey. It cannot be accomplished in a single year," Manmohan Singh said.
On allocations to the various departments, the prime minister said the finance minister had laid out the road map, and there was plenty of food for each ministry to chew on.
"The finance minister has, I think, mentioned these challenges. It is up to the collective wisdom of my council of ministers to convert these challenges into opportunities to accelerate the tempo of growth," the prime minister said.
Noting there had been problems with regard to clearances - environmental clearances, forest clearances and land acquisition problems - the prime minister said: "Many of these areas are with the state government. Whatever is within the realm of possibility of the central government, we have committed ourselves that we will use the cabinet committee on investments to grapple with these tensions which exist in our system".
"Inflation, fiscal deficit, current account deficit are three basic challenges to the economy. We need a multi-pronged strategy to tackle them," Manmohan Singh said.