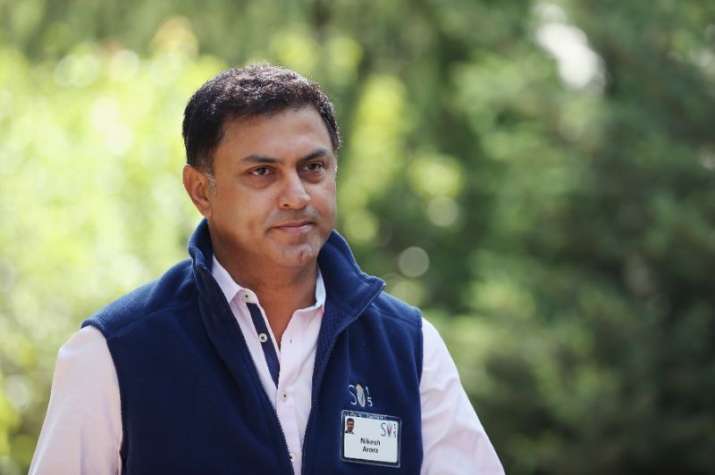 Nikesh Arora's two-year tenure as SoftBank President cost the Japanese tech giant a whopping Rs 2,000 crore, effectively translating into a per day salary of about Rs 2.7 crore. 
SoftBank booked Rs 440 crore in expenses arising from Arora's resignation last month, the company said in a statement on Thursday. This is above the compensation of Rs 1,600 crore that he received in the previous two fiscals.
Moreover, the company bought back its own shares, worth Rs 700 crore, from Arora, who served as company's top executive.
 
According to a Bloomberg report, the headline figure (Rs 2,000 crore) is not only an unprecedented number is Japan but is also large compared to U.S. executive compensation packages. 
"Marissa Mayer, the CEO of Yahoo! Inc., was paid Rs 740 crore over the past three years. Arora's compensation rivals those of Apple's Tim Cook and Walt Disney Co.'s Bob Iger," the report said. 
 Arora's decision to step down as president of SoftBank came following differences with Masayoshi Son, the CEO of SoftBank, over handing over the reins of the company to Arora. Arora quit saying he did not wish to be a "CEO-in-waiting" past his "sell-by date". 
Son, who had announced his intent to make way for Arora to take over when he turned 60, decided otherwise.
After the release of SoftBank's quarterly earnings report, Son in a press conference defended Arora's compensation, quoting new investments led by him in India and China, and arranging the sale of company's stakes in Supercell Oy and Alibaba Group. 
"Nikesh was in command of Supercell sales and liquidation of Alibaba stake. That contribution alone is more than enough," said Son. 
  
 Bloomberg Businessweek reported that Arora remained Google's highest paid executive in 2013 drawing a package of Rs 344 cr approx, which stood at around Rs 1 crore per day in 2013.
Arora left Google in July 2014, resigning from the post of senior vice president and chief business officer to join Japanese Conglomerate Softbank as president and chief operating officer. He was paid a salary of about Rs 488 cr in 2015-2016, according to Bloomberg.